Reporter Gives Reese Witherspoon The 'Legally Blonde' Dissertation She Wrote In College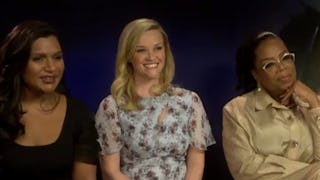 Image via Lucy Ford / Twitter
Try not to squeal watching this reporter hand her scented Legally Blonde dissertation to Reese Witherspoon herself
Sometimes the universe is kind enough to put the right people in the right place at the right time, like when entertainment reporter Lucy Ford was lucky enough to do press for A Wrinkle In Time, putting her in the same room as one Reese Witherspoon.
Why was this so advantageous? Glad you asked. It's because four years ago, Ford wrote a dissertation inspired by one of Witherspoon's most iconic films: Legally Blonde. In her paper, titled "Dumb Blonde Ambition," Ford explored Legally Blonde's impact on postfeminism by crushing the "dumb blonde" trope and making Elle Woods one of the strongest, smartest and most ambitious characters women and girls could look up to. When I said iconic, I really did mean iconic.
Anyway, because she clearly knows an opportunity for internet gold when she sees one, Ford brought a copy of that dissertation to a panel interview with Witherspoon, Oprah Winfrey and Mindy Kaling.
And then she handed it to Witherspoon while the entire internet melted into a puddle.
Ford says in her tweet that she may cry, but it's Witherspoon who almost immediately tears up. Seriously, she's so full of genuine emotion at receiving this, and it's so pure. Witherspoon tells Ford the fact that she wrote the paper and then gave her a copy "really touches my heart," and she's not alone in being moved by the gesture.
Oh, and as the greatest throwback to the film of all time, yes, Ford's dissertation was scented. And yes, Witherspoon noticed.
"I have one question about this," she asks as the interview wraps. "Is it scented?"
This is clearly the moment Ford has been waiting for.
"I actually put perfume on it," she says, and Witherspoon replies, "I know you did!"
And for everyone that wants to read the dissertation behind this now-iconic moment, Ford shared that, too.
There it is. The paper that almost made Reese Witherspoon cry. Enjoy.