Reese Witherspoon Shares Story Of Being Sexually Assaulted By Director At 16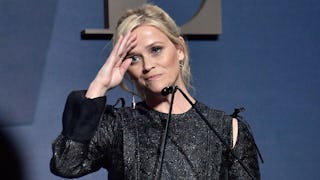 Image via Stefanie Keenan/Getty Images
The actress said she felt guilt about not coming forward sooner
Actress Reese Witherspoon is the latest in Hollywood to come forward and share that she was sexually assaulted during her career, the first time when she was just 16 years old.
Witherspoon discussed the abuse during a speech at the Elle 'Women In Hollywood Awards' event Monday night, revealing she was sexually harassed multiple times while working in Hollywood, saying, "I wish that I could tell you that was an isolated incident in my career, but sadly it wasn't. I've had multiple experiences of harassment and sexual assault and I don't speak about them very often."
After news about the Harvey Weinstein scandal broke, social media has been flooded with women coming forward with the hashtag #metoo, to share that they have also experienced sexual harassment or abuse in their lives. It was both overwhelming and unsurprising to see the sheer number of women open up about a very personal, and often rarely talked about circumstance.
For Witherspoon, this coming forward by women she knew inspired her to speak out. "I just want to say, this has been a really hard week for women in Hollywood, for women all over the world, for men in a lot of situations and a lot of industries that are forced to remember and relive a lot of ugly truths," the actress continued in her speech, referencing others like Alyssa Milano, Rose McGowan and Gwyneth Paltrow, who have also shared infuriating, very personal stories of harassment and abuse at the hands of Weinstein and others in Hollywood.
"Hearing all of the stories these past few days and hearing these brave women speak out tonight about things we're kind of told to sweep under the rug and not talk about, it's made me want to speak up, and speak up loudly, because I felt less alone this week than I've ever felt in my entire career," Witherspoon continued.
"I have my own experiences that have come back to me very vividly, and I found it really hard to sleep, hard to think, hard to communicate," she said. "A lot of the feelings I've been having about anxiety, about being honest, the guilt for not speaking up earlier or taking action. True disgust at the director who assaulted me when I was 16 years old and anger that I felt at the agents and the producers who made me feel that silence was a condition of my employment."
Also at the event, Jennifer Lawrence spoke out about an experience where she was asked to lose 15 pounds in two weeks for a role she was being considered for. She was asked to stand in a line-up of other naked women and then told to use the naked photo of herself "as inspiration" to lose the weight.
Witherspoon promised during her speech to help create a "community of people who are champions now of a new attitude towards harassment in our industry and every industry that's going to address the abuse of power in this business and every business and I feel really, really encouraged that there will be a new normal."