Reese Witherspoon Is Every Mom Of Teens Who Has No Idea What Tik Tok Is
by Valerie Williams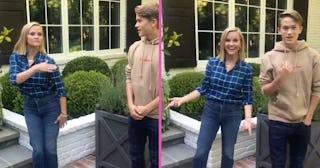 Reese Witherspoon/Instagram
Reese Witherspoon's son is teaching her what Tik Tok is and we can totally relate
Parenting tweens and teens is a wild ride full of unknowns, anxiety, worry, and confusion. Along with all that heavy stuff, though, is the typical chasm between the Youngs and the Olds — and living in this digital age, the technology gap between parents and kids is probably wider than in generations past. That's because no matter how hip and with it we think we are, our kids are several hundred steps ahead.
Take Tik Tok for instance — if you have no idea what that is, you're not alone. Neither does Reese Witherspoon, and this Instagram video of her son trying to teach her about it is making us feel extremely seen. "@deaconphillippe tries to teach me how to Tik Tok 😂 I think I nailed it…" she captioned the post.
First things first — how adorable is Deacon? He's 15 years old now (the total spitting image of both his mom and dad, Ryan Phillippe) and seems like the sweetest and most patient teen boy, only showing the slightest bit of cringe at his Momma's attempt at trying to understand what the kids are doing these days.
"Deacon, this is very important. I've brought you here because I have questions for you," she says. He mumbles "Oh God," in the most teenagerly tone possible but is game to help her. "For all the moms out there… what is Tik Tok?" she asks. Phillippe explains that it's a "short-form video platform" where people upload clips of themselves dancing to songs or even lip-syncing along.
Then, she is absolutely all of us trying not to embarrass our kids but failing spectacularly. "Should I be on TikTok?" she asks.
While trying not to look too openly horrified, Deacon watches his mom work through a few moves.
"Like that?" she asks.
"No, not like that," he replied.
Witherspoon tried a number of sweet moves with her son eventually conceding, "You look pretty cool." From a teenage boy? We'd take it.
Finally, she busted out her first official Tik Tok to "Mr. Sandman" and it's freaking adorable, of course. She featured a few other teen trends in the clip — the quintessential VSCO girl scrunchy and hydro flask — and also, an appearance by her precious pup.
We totally love Witherspoon's clearly strong bond with her teen kids as evidenced by a number of extremely loving social media posts. Her daughter Ava dropped the sweetest tribute to her mom earlier this year calling her, "… the gorgeous woman who taught me about the power of graciousness, love, ambition, and hard work." High compliments from a teenager, for sure.
https://www.instagram.com/p/B0Ca5ZWnB6Q/?utm_source=ig_embed
Witherspoon's also teaching us a thing or two about staying connected to our teens during a time when it feels almost impossible to grab their attention. Let her goofy dancing inspire us to share in the things our kids love that might totally baffle us. The bonding time — and hilarious video footage — is a pretty great end result.