Reese's And Hershey's Whipped Creams Are Here To Elevate Your Dessert Game
by Valerie Williams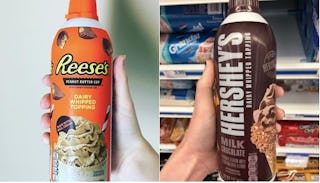 Image via Instagram/TheSweetFoodie/JunkFoodReviewz
Reese's and Hershey's whipped creams look like a dessert dream come true
Have you ever sprayed an alarming amount of whipped cream on your ice cream while thinking, "damn, I wish this came in glorious candy flavors?" If so, Reese's and Hershey's whipped creams are about to blow your mind.
It looks like our fave 2:00 AM-in-front-of-the-open-fridge snack is about to go next-level.
A few weeks ago, exciting rumors flew about the snack world that Reese's and Hershey's whipped cream flavors might actually happen, and now? THEY'RE HERE.
Sorry, I think I just blacked out for a second.
They've arrived at supermarket chain Hy-Vee and boy, is this thrilling. Get. In. My. Mouth.
There are some who may say this is going too far, that this is just too sweet and too much and you know what? You don't need those people in your life. You don't need their negativity. You need sprayable Reese's and Hershey's, light as air, all over your cakes, brownies, ice cream, or if you're a whipped cream purist like me, directly into your mouth hole.
Like, everything is terrible. If there's sprayable cream candy available we need to buy it all and eat it immediately. We literally deserve this kind of joy in our lives.
UGH it's just too beautiful.
https://www.instagram.com/p/Bk-8tuTHrUo/?utm_source=ig_embed
So chocolate. So light.
https://www.instagram.com/p/Bk_CXGjgeM7/?utm_source=ig_embed
So far, it looks like this dreamy dessert add-on can only be found at Hy-Vee, but hopefully, this fluffy goodness will start popping up in more stores soon.