White Referee Forces Black Wrestler To Cut His Dreadlocks Or Forfeit Match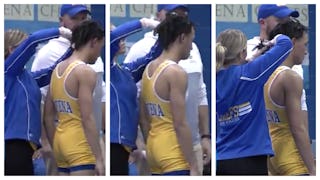 Image via Twitter/Mike Frankel
This racist ref should never work another sporting event ever again
High school student wrestler Andrew Johnson is clearly visibly upset after being told by a white referee to cut off his dreadlocks or forfeit a wrestling match. In a now-viral video, you can see a white, female athletic director rapidly shearing his locs as he stands there, shoulders slumped.
It's heartbreaking to watch.
Johnson, a student at Buena Regional High School in New Jersey, wore thick long locs until his match earlier this week against a rival high school. Right before he was set to compete, the white referee — who once referred to a colleague as the N-word at a public event — told Johnson he had to cut off his hair to "comply with athletic regulations" or forfeit the match altogether.
A reporter, Mike Frankel, captured the incident on video. Though Frankel seems to feel the incident shows Johnson as a "team player" rather than condemning the actions that lead up to the public cutting altogether, it's clear in the video that Johnson is not okay with what's unfolding.
Apparently, Johnson's coaches argued the ref's ruling.
But he agrees to it anyway. Not because he's a "team player," but because people of color and those who are marginalized have to pick and choose how to handle their battles in the face of adversity.
This is white supremacy culture at work. Anything that exists outside of Standard Whiteness — like wearing locs — just doesn't "comply."
Many people who saw the video are outraged the referee would force such a drastic decision to unfold.
The ACLU chapter in New Jersey wasted no time in calling this incident what it really is: racism.
As far as wrestling rules go, The National Federation of State High School Associations says when it comes to high school wrestling, a new rule instated this year is for officials to ensure all equipment worn on the mat — including hair coverings — should fit "snug" to a wrestler's body.
It was reported that Andrew Johnson was wearing a hair covering at the time of the match in question. In fact, he'd been wearing one all season and wrestled without incident before this incident.
Hmmm. It's so baffling that a guy who feels perfectly comfortable using the N-word in public AT WORK wouldn't care for a black student's dreadlocks! Weird!
Yesterday, the New Jersey State Interscholastic Athletic Association said it was conducting an investigation. In alliance with the New Jersey Division of Civil Rights, the association also recommends that the referee not be assigned to any further events until "the incident has been reviewed more thoroughly."