Regé-Jean Page Is Starring With Ryan Gosling & Chris Evans In A New Netflix Movie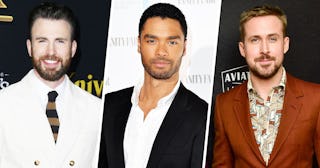 Jon Kopaloff/Jeff Spicer/Rodin Eckenroth/Getty
Regé-Jean Page was just cast alongside Ryan Gosling and Chris Evans in one of the biggest and most ambitious movie projects Netflix has ever taken on
Anyone who's watched Bridgerton understands the struggle of needing (not wanting, needing) to see Regé-Jean Page in as much content as possible. And for those of us who have already burned through his entire IMDB catalog of existing works, well, there's a need for more. Luckily, the most in-demand actor of 2021 is getting booked left and right, and his latest casting announcement is a pretty major one.
It turns out Page is going to star alongside Ryan Gosling, Chris Evans, and a completely stacked cast of other A-listers in Netflix's upcoming movie The Gray Man. The action thriller is based on the best-selling book of the same name by novelist Mark Greaney. Oh, and it's expected to be the biggest-budget, most ambitious film project in Netflix's entire history. I mean, just look at the stars that have been cast in the project, and you'll see why.
Ana De Armas. Alfre Woodard. Billy Bob Thornton. Jessica Henwick. Wagner Moura. Dhanush. Julia Butters. Show me a more talented and in-demand collection of actors. I'll wait.
We don't know yet how closely the movie is going to follow the book, and all Netflix has released so far is that it will be about "a freelance assassin and former CIA operative Court Gentry (Gosling) as he's hunted across the globe by Lloyd Hansen (Evans) a former cohort of Gentry's at the CIA." No word yet on Page's exact role, but he can play literally any part and we'll line up to see him. Production is set to start in L.A. this month, so hopefully we'll get more details soon.
This isn't the only big casting news that's come for Page recently. He's also going to be starring in the much-anticipated Dungeons and Dragons movie that's set to be released later this year. Bridgerton was renewed for a second season, and although he won't be the star anymore, we expect him to make some appearances (he'll have to, to appease his fans). He's also fresh off of hosting a great episode of SNL, so we think it's pretty safe to say Page is absolutely on fire right now. What will his next big casting announcement be? We can only wait and see, but we can't wait to find out.