You Can Still Register To Vote On Election Day In 21 States
by Christina Marfice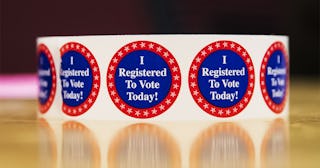 Bloomberg Creative/Getty
Your state may allow you to register to vote on election day. Here are all the states that do, and how to register
It goes without saying that this is the most important presidential election most people have seen in their lifetime. The coronavirus rages on, claiming the lives of thousands of Americans with each passing month, with no national strategy for combating it. The rights of immigrants, including children who were separated at the border from their parents, are at stake. Millions of Americans' access to affordable healthcare could be affected by the winner of this race, too. We all need to vote. And even if you still need to register to vote, you might be able to make your voice heard.
In many states, people can register to vote on election day. Here's everything you need to know.
First, check to see if you're actually registered. Even if you think you need to register to vote, you may not. There's a simple way to check your registration status: Go to vote.org, click "Check Your Registration," and enter the personal details the site prompts you for. It should be able to tell you immediately whether you're registered — and where.
If you've recently moved, or recently registered, things get more complicated. It's possible that you are registered to vote, but if you've recently moved and updated your voter registration, or you've registered within the last few weeks, your registration hasn't processed yet and won't show up on a tool like vote.org. That's OK — you can head to your polling place and ask. If you aren't on the voter rolls there, request to register at the polls if your state allows it. Otherwise, request a provisional ballot. Poll workers are required to give them to anyone who asks, and it will be affirmed later once your registration goes through.
If you're not registered to vote, you may still have hope. Here are all the states that allow voters to register at the polls on Election Day (today):
California
Colorado
Connnecticut
Washington, D.C.
Hawaii
Idaho
Illinois
Iowa
Maine
Maryland
Michigan
Minnesota
Montana
Nevada
New Hampshire
North Dakota
Rhode Island
Utah
Vermont
Washington
Wisconsin
If you live in one of those states and still need to register to vote, check your state or local election authority for instructions on how to do so. You'll probably need to bring proof of address (like a lease or a piece of recent, unopened mail), as well as a couple forms of ID.
Today is Election Day, and even if you still need to register to vote, you might have a chance to participate and make your voice heard. If at all possible, vote. Lives depend on it.
This article was originally published on