Why Some Parents Are Forced To Relinquish Parental Rights To Obtain Psychiatric Care For Their Kids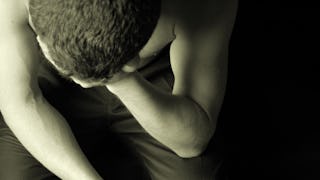 Tammy Fullum/Getty
The Hoy family faced a desperate decision no parent should be forced to make: relinquish custody of their preteen or sacrifice his desperately needed medical treatment?
For two years now, their 12-year-old son Daniel's PTSD and severe anxiety had manifested, according to NPR, as violent outbursts. "He held knives to people's throats," says his mom, Toni. "He tried putting his fingers and his tongue in the light sockets. He broke almost every door in the house."
He would try to force the car into oncoming traffic. When he threw his brother down the stairs and only stopped beating him after their father separated them, his parents took him in for what would be his 11th psychiatric evaluation in two years. But neither Medicaid — for which Daniel's foster care adoption made him eligible — nor their private insurance would pay for his inpatient care, estimated to cost $100,000.
The state gave the Hoys an ultimatum: take him home and we charge you with child endangerment, forcing you to lose custody of Daniel and your other kids. Or leave him at the hospital, and we charge you with neglect.
As a result, the Hoys were forced to relinquish custody of Daniel to the state of Illinois. Once child welfare services took over, Daniel was placed in a residential treatment center. It was paid for. He got the care he needed, but he no longer had legal parents. The Hoys were investigated and the charges dropped from neglect to "no-fault dependency," which means, according to NPR, that "the child entered custody of the state through no fault of the parents."
Eventually, when Daniel was 15, they used Medicaid law, which says that the state has to pay for all medically necessary care for a child, to sue and get custody of their son returned them — plus the money to pay for his care.
But Daniel's case isn't an isolated one. Far from it.
A study by the Government Accountability Office shows that in 2001, more than 12,000 in 19 states faced the same heart-wrenching decision as the Hoys, and made the same choice.
In 2015, Connecticut mom Susan Russell had to make the same choice with her son, Kevin. Unaware that Kevin, adopted at age 5, had been abused by a former foster family, Russell watched as his violent outbursts escalated. According to the New Haven Register, he "set fires, stole money, and destroyed their house."
She appealed to DCF, or Connecticut's version of child services, and was given some help. But when he landed in ERs after very violent episodes and Russell, armed with recommendations from doctors, would push for longterm care, Kevin was shunted into short-term programs instead. But finally, concerned about the safety of her older daughter and a 5-year-old she had adopted, Russell cried as she did the unthinkable: she relinquished Kevin back to the state, so that he could get the longterm care that he needed.
The situation is so dire that the group Mental Health America released a position statement arguing that it is "inhumane and counter-productive to require families of children with mental health and substance use conditions to relinquish (i.e. give up) parental rights in order to get mental health treatment for their children … MHA encourages affiliates, families and other concerned individuals and organizations to advocate for more state laws banning custody relinquishment requirements and for increased availability, accessibility, and appropriateness of mental health and substance abuse treatment."
But mental health advocates say the problem is "too little, too late." NPR says that decades of slashed budgets for in-home and community-based services have eroded the mental health system for vulnerable children. Kids are forced to reach a crisis point, and by then, there's little option but parental relinquishment in order to obtain the level of care they require. If better care were provided in the earlier stages of mental illness, the crisis could have been avoided in the first place. But even when kids do hit that crisis point — and either Medicaid or private insurance will pay — the waiting list for beds can be months long. Or even longer.
Moreover, B.J. Walker, head of Illinois' child welfare agency, tells NPR that "some facilities are simply unwilling or unable to take a child who has a severe mental health condition or a co-occurring medical condition."
Today, Daniel Hoy is living a normal life, on his own, with his girlfriend and their toddler daughter. But other relinquished kids are not so lucky. The outcomes for teenagers in the foster care system are dire. According to a 2003 article in the journal Child Welfare, "Many live on the streets, lack the money to meet basic living expenses, fail to maintain regular employment, are involved with the criminal justice system, are unable to obtain health care, and experience early pregnancies." And these outcomes are for children who aren't relinquished to obtain needed psychiatric care.
Both the Hoys and Susan Russell remain traumatized by the experience of having to give up their children. Toni Hoy tells NPR, "It's shameful that families get torn apart by a system that's supposed to be supportive." Of Kevin, Russell tells the New Haven Register that, "I am his mom. I will always be his mom," she said. "I have done nothing wrong. I have tried to put this child back together … And they failed him."
And until supports are put into place that ban relinquishment for the sake of obtaining psychiatric care, more parents, like the Hoys and Susan Russell, will face the same heartache.
This article was originally published on