Quick Thinking Reporter Saves Man From Drowning During Harvey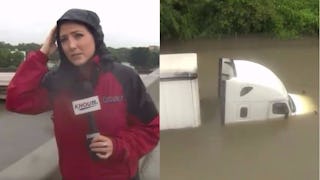 Image via Facebook/Brandi Smith
Smith flagged down rescuers during Hurricane Harvey and they pulled man to safety
Turn on the TV right now and all we see are the devastating pictures coming out of Texas. Tropical storm Harvey swept in over the weekend leaving substantial parts of Houston and southeast Texas underwater. Millions of residents are in continued danger as the extreme weather from Harvey continues, in some places dumping more than 50 inches of rain. Emergency responders have already performed over 1,000 rescues across parts of Texas, one of those rescues was a success thanks to a quick thinking reporter.
KHOU reporter Brandi Smith was reporting on the storm from the side of Beltway 8, a major Houston highway, and kept reporting even as her own station was being flooded. It was there Smith noticed a truck driver caught in extreme flooding on the road near her and was trapped in the cab of his 18-wheeler, water closing in around him.
Smith stopped a Houston sheriff's truck as it was driving past and she and photographer Mario Sandoval reported the rescue live on air. "I don't have any word on how long he's been there or what kind of condition he's in. I'm sure he's very wet, very cold, very frightened. I am terrified for him, so I can't imagine the level of fear he has here," Smith told viewers, her voice shaking.
"There is water filling his cab and I'm trying not to break your eardrums as I scream," Smith told viewers as she called down to the driver. "Sir, there is a boat here!"
As Smith watched the rescue happening next to her, her colleagues back at KHOU were trying to get out of station while water flooded in. "Two feet of water in the station and they are evacuating the building right now," she told viewers. "Those are the kind of circumstances that we are dealing with. catastrophic, dire, life-threatening. Do not take any chances."
Later, Smith posted on her Facebook page, "The #KHOU11 signal cut out just as Harris County Sheriff's Office crews got their rescue boat in the water to pull a semi driver out of his flooded cab. I've had SO many people asking if he made it out OK and I wanted to share the video. (We kept going and rolling until the camera's battery died, not knowing we'd been knocked off the air.) They pull him out around the 4:40 mark. THANK GOD for that crew."
Though the rescue footage itself never aired because the station was flooded from the storm, viewers watched in astonishment and shared the events via social media.
Smith later thanked all involved via Twitter:
"I just thank God that you all were here to put me back on land safely," the driver told Smith once he was safely out of his truck. We are thankful this man's story had such a happy ending.