Reproductive Coercion Is A Form Of Abuse
by Elaine Roth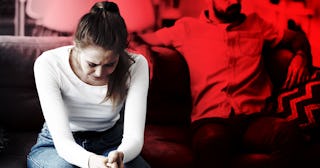 Scary Mommy and fizkes/Getty
On June 23, Britney Spears leveled a number of troubling accusations against her father and others involved in her 13-year conservatorship. Among the most disturbing was this: they forced her to keep her intrauterine contraceptive device (IUD)—an implanted contraceptive device—even though she wants it out so she can have more children.
In a court hearing, she said, "I was told right now in the conservatorship I am not able to get married or have a baby."
She said, "I wanted to take the IUD out, so I could start trying to have another baby, but … they don't want me to have … any more children. So basically, this conservatorship is doing me way more harm than good. I deserve to have a life."
Planned Parenthood president and CEO Alexis McGill Johnson spoke out about Britney's allegation and called what she was experiencing "reproductive coercion." In a tweet, she wrote, "We stand in solidarity with Britney and all women who face reproductive coercion. Your reproductive health is your own — and no one should make decisions about it for you."
Without a doubt she's right. No one should ever tamper with or attempt to control your reproductive choices.
Reproductive Coercion Is Abuse
The American College for Obstetricians and Gynecologists (ACOG) defines reproductive coercion as, "Behavior intended to maintain power and control in a relationship related to reproductive health by someone who is involved in a dating relationship with another person."
That all amounts to saying: reproductive coercion is abuse. When one person controls another's ability to make a choice about their own reproductive system or controls their bodily autonomy, they are stripping away a fundamental human right.
Not only that (as if that wasn't bad enough), Power To Decide, an organization committed to ensuring everyone has the resources to protect their bodily autonomy and reproductive well-being, confirms other potential lifelong impacts of reproductive coercion, including: unintended pregnancy, STIs, infertility, and psychological harm from abuse.
Reproductive Coercion Is More Common Than You Think
These types of reproductive coercion are unfortunately more common than you might think, and they can happen to anyone, including men, gender-nonconforming and transgender people, and individuals in LGBTQ relationships, Power to Decide CEO, Dr. Raegan McDonald-Mosley wrote in an email to Scary Mommy.
One study in California found that among women 16-29 years old who visited a health clinic more than one in eight who had never experienced other forms of partner abused reported reproductive coercion—evidencing the fact that reproductive coercion can happen even in relationships that are not otherwise abusive. In an abusive relationship, that number increases. Approximately one in three women who reported partner violence also experienced reproductive coercion.
The study also found that more than one in seven women reported birth control sabotage and one in five reported pressure from their partners to get pregnant.
The problem is worse in certain demographics. Dr. McDonald-Mosley highlighted research that Latina and Black adolescent girls appear to be more vulnerable to reproductive coercion.
Reproductive Coercion Includes Birth Control Sabotage And
Stealthing
According to Power To Decide, reproductive coercion can include not only what Britney is experiencing under her conservatorship, but also sabotaging birth control methods, purposefully transferring a sexually transmitted infection (STI), and compelling someone to have unprotected sex.
Stealthing, the act of removing a condom during sex without your partner's permission, is another form. It is a nonconsensual act. It not only violates boundaries, but increases the risk of unplanned pregnancies or sexually transmitted diseases.
Other forms of reproductive coercion include pressure to become pregnant when the person doesn't want to be pregnant, threatening to end a relationship or harm the person if they continue to use contraception, or forcing a person to continue a pregnancy they don't want, according to Dr. McDonald-Mosley.
What To Do If You're Experiencing Reproductive Coercion
No one should ever be denied their fundamental right to make a choice about their reproductive health. In a healthy relationship, your bodily autonomy and reproductive choices are respected and valued.
The first thing to do—if possible—is to reach out to a trusted person and ask for help. Then, reach out to your health care provider to discuss birth control options that are tamper-resistant.
Dr. McDonald-Mosley writes that a long-acting reversible contraceptive (LARC) is a good option for those interested in a long-term option. It prevents pregnancy, requires no daily effort, and can be inserted in a way that keeps its presence private. For those who don't want a long-acting method, they may be able to get birth control delivered discreetly to their door, either through Hers, an online resource for discreet home delivery of birth control pills, or BCBenefits, a contraceptive access fund by Power To Decide, which delivers a year's worth of free birth control pills to the home of eligible users.
Dr. McDonald-Mosley writes, "Bottom line, you have every right to control your own reproductive health decisions and if you find yourself in a place where someone else is making those decisions for you, there are resources and organizations that can help."
In conservatorship cases like Britney's, there are harder considerations. In an interview with The L.A. Times, Khiara M. Bridges, a law professor and faculty director of the Center on Reproductive Rights and Justice at UC Berkeley, commented on the ability of conservators to put these restrictions in place for financial and medical purposes. Though she noted that enforcing an IUD "seems like an incredible overreach" by Spears' conservators, she also recognized that marginalized communities are frequently trapped in similar situations where their right to have a child is denied. Britney's case is different mainly because her celebrity status affords her the publicity that might eventually affect change.
Anyone experiencing abuse who needs support can contact the National Domestic Violence Hotline at 1-800-799-SAFE (7233), text 741741 to get in contact with a crisis counselor specializing in sexual abuse, or access the National Domestic Violence hotline via a live chat service.
The prevailing truth is that everyone, regardless of who they are, where they live, or how they live should have the fundamental right to make their own decisions about their body and their reproductive choices. Anything else is not okay.
This article was originally published on