A Liberal's Biased Recap Of Night One Of The Republican Convention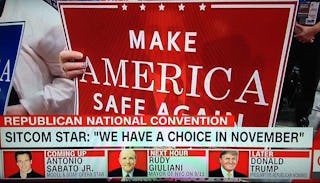 A (mostly true) account of the first night of the Republican National Convention
Welcome to the first night of the Republican National Convention. Tonight, we're going to talk about how to make America safe again.
[Crowd fires guns in the air in celebration.]
Earlier, we had a young blind girl sing the national anthem. Wasn't she amazing? We look forward to seeing Mr. Trump's impression of her later. But for now let's start this convention honoring our party's nominee, Donald Trump, in the only way we can: with Willie Robertson of "Duck Dynasty."
–Willie Roberston: Thank you, I'm so honored to be here.You probably know me from my TV show, "Duck Dynasty," and more recently from my production of "Duck Commander, The Musical," which is an actual thing that happened. It's been a bad year for the media, most of whom thought that the Trump Train, which is foot-powered like the Flintstone's car, was going to peddle itself off the tracks and into the core of hell. But they were wrong. Trump is always going to have our backs, even if he's the worst kind of dick about it.
–Scott Baio: Hi, America! You probably remember me from "Charles in Charge," "Joanie Loves Chachie," and more recently from the short film, "Wrong Hole." I am so honored to be here supporting Mr. Trump, a man I would trust with the lives of my family. In fact, my children are dangling from a bridge three miles away right this minute, and I promise you, Donald Trump will save them.
I want you all to know something that I as a former television star know for certain — America isn't about getting free stuff. It's about sacrifice, losing, failing, and sacrifice. It's about being on posters one day and making a reality show on VH-1 the next. Only Donald Trump can fix this. Is he a Messiah? Maybe. I'm going with maybe. Donald Trump might be a Messiah who is running for president out of the goodness of his heart.
[Chachie gets a standing ovation]
–Former Texas Governor Rick Perry: I once called Donald Trump "a cancer on conservatism" and now I'm following Scott Baio at the national convention. With that in mind, I am going to introduce Marcus Luttrell (the Lone Survivor guy!) and get out of town.
–Marcus Luttrell: I'm going to go off the teleprompter and be the first person who sounds like I mean what I'm saying tonight. America needs an elite military. Good night.
[Now, let's move into our Benghazi/Hillary Is A Murderer portion of the evening where we exploit the grief of parents for political gain. If you need a breather, CNN is interviewing Scott Baio, who says that Trump asked him to speak last week, out of nowhere, for no apparent reason other than that he ran into him in a hallway. Dana Bash asks him if he regrets a tweet he sent out that compared Hillary Clinton to a derogatory word for a part of the female body. He's not, because people are free to interpret the word "c**t" however they want to. Like, "Man, Hillary sure is a c**t." The end.]
–Antonio Sabato, Jr.: Hi, I'm Antonio Sabato, Jr. You probably remember me from 1992. I've never been political, but just like in The Exorcist, the power of Christ compels me to speak now.
Donald Trump is for unity. And if you don't think that's crazy enough, I'm going to tell ABC News later that I think Obama is a Muslim. God bless America.
[Next is the Illegal Immigrants Are Murderers portion of the program, with more grieving parents for you to enjoy. The highlight of the next half hour is when CNN cuts to Chris Christie, who looks exhausted after masturbating to the "60 Minutes" interview all night.]
—Milwaukee Sheriff David Clarke: I'm still erect from yelling at Don Lemon last night, so I'm going to make this quick. First, blue lives matter.
[CNN ticker: "Sheriff Clarke ran for mayor in 2014 and lost."]
Second, here's a quote from Martin Luther King. And third, I think I speak for all black men when I say that the sense of safety that many of us once took for granted has been shattered. Am I right, brothers? Brothers? Brothers?
[CNN: "Hey Don, what'd you think of Clarke's speech?" "I think Scott Baio got more applause than he did." "Fair enough."]
–U.S. Senator Tom Cotton: Let me tell you a story about an Arkansas farm boy [Here we go] who served his country. That man was my father. I too served in the military, and I believe that no one can push the United States around without our consent. Because the United States has a safe word, and that safe word is "Radical Islamic Terrorism."
[CNN interviews Chris Christie, who says, "I'm just a kid from Jersey who gets to be at the Convention. Life is great. I feel really comfortable and confident with my role as Chairman of the Transition. My only goals now are to help Trump get elected and fill Pence's office with farts.']
–Former New York City Mayor Rudy Giuliani: POLICE OFFICERS DONT ASK IF YOU'RE BLACK OR WHITE, THEY JUST COME TO SAVE YOU. WHAT HAPPENED TO, "THERE IS NO BLACK AMERICA OR WHITE AMERICA THERE IS JUST ONE AMERICA?" I DON'T KNOW BECAUSE I DON'T PAY MUCH ATTENTION TO HISTORY OR CURRENT EVENTS.
Donald's not going to be happy that I told you this because if there's one thing it hates it's self-congratulation, but he has anonymously helped people in New York for years. Man, he is going to be so not in the least bit mad at me.
ISLAMIC EXTREMIST TERRORISM!! WE ARE GIVING THEM MONEY! ARE WE CRAZY?! [There are confused shouts of both "Yes" and "No" from the crowd.]
NOW SOMEONE GET OUT HERE AND CLEAN THE SPITTLE OFF THIS MIC BEFORE MELANIA TALKS BECAUSE SHE'S A CLASSY LADY.
["We Are The Champions" starts playing. The stage is dark. Donald Trump comes out as a shadow, lit from behind by a bright, white light. Somewhere, Scott Baio is on his knees, weeping and saying, "I knew it! I knew it all along!"]
–Donald Trump: Thank you. We're going to win so big. Here is my lovely wife, Melania.
–Melania Trump: Good evening. I'd like to start and finish by quoting Michelle Obama. [Gives speech] Good night and bless America!
–Retired Army Lt. Gen. Michael Flynn: WAR IS NOT ABOUT BATHROOMS! Also, before I close, I just want to say that I stay up at night thinking about how our very existence is threatened and that evil exists. Good night, Cleveland.
[Now we're going to close with a group presentation to a sea of empty chairs.]
–U.S. Senator Joni Ernst: I never imagined that a farm girl like me [Oh for Christ's sake] would be speaking at the Republican National Convention. Like many midwestern farm girls, during my sophomore year of college I went on an agricultural exchange to the Ukraine. I was surprised to find that the students there didn't want to talk to me about hog castrations and bread bag shoes. No, they wanted to talk about America's sweet, sweet freedom. And it's a freedom we need to protect. ISIS is present in all of our 50 states. [One woman in the crowd says, "Boo." Ernst agrees, "Yes. Boo."]
[Unfortunately for James Beardsley and Representative Ryan Zinke, the room is practically empty, convention hall workers are stacking chairs and sweeping up popcorn, and CNN is showing highlights and wrapping this thing up.
Sweet dreams, America.]
This article was originally published on