Republican Senator Literally Hides In The Bathroom To Avoid Hearing Sexual Assault Survivors
by Thea Glassman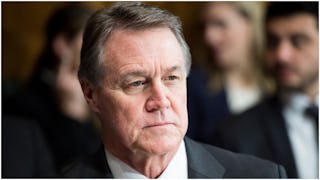 Image via Bill Clark/Getty
Sexual assault survivors were ignored by republican senators when they tried to share their stories
The FBI only has three days left before they close their investigation into Dr. Christine Ford's sexual assault allegations against Supreme Court nominee Brett Kavanuagh. In the meantime, activists are doing their part to make their voices heard. Sexual assault survivors tried to speak to senators at the airport this week and the responses from republicans were completely abrasive.
On Monday, a group of members and volunteers from Popular Democracy, an advocacy group, waited at Ronald Reagan Washington National Airport for senators to arrive. They approached Senator David Perdue (R–Ga.) as he walked through the terminal and tried to speak to him about the importance of voting against Kavanuagh's confirmation. When Arizona State Representative Isela Blanc offered a handshake Perdue responded: "Don't touch me."
Then, he ducked into the bathroom.
The women continued to call out to him. "How can you ignore our pleas?" Blanc asked. "You represent not just your state's choice, but every American in this country, and every person that is vulnerable. This is a legacy, and a moment in history that will not be forgotten."
The group was met with a similar chilly response when they confronted Senate Majority leader Mitch McConnell. "Do you want the Republican party to be the party that is known for supporting rape and sexual assault?" one asked. He refused to answer their questions or listen to their stories and walked away.
The women also approached democratic senators Elizabeth Warren, Bernie Sanders, and Kirsten Gillibrand at the airport. Their responses were much different, Jennifer Epps-Addison, President and Co-Executive Director of Popular Democracy, told Bustle. An activist captured a video of Warren engaging with one of the women and explaining the importance of a full, fair investigation into the allegations.
Despite the disappointing response from Republican senators, Epps-Addison is hopeful that these face-to-face moments will make an important point.
"I think we hope that these confrontations are lessons in humanity, are about reminding senators that they do work for the American public and that they are supposed to listen to our voices," she said. "…What we want them to know is every time somebody gets up and tells their story, every time someone confronts these incredibly powerful people and speaks their truth, they give permission to hundreds of other people to do the same thing."