Crybaby Republicans Refuse To Go Through Metal Detectors Installed After Riots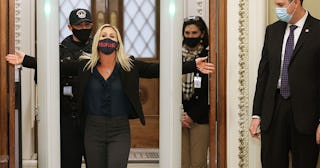 Chip Somodevilla/Getty
Some republicans are refusing to step through metal detectors installed after the Capitol riots or aren't stopping if they set it off
It's been one week since the horrifying Capitol riots; and since, not only have many of the pro-Trump rioters been arrested and charged, but we're also now watching stubborn, crybaby Republicans refuse to walk through the newly installed metal detectors at the Capitol — with some even continuing to walk off when they set them off. And the one person who's had it up to here with their actions? House Speaker Nancy Pelosi.
On Wednesday, Pelosi announced proposing fines up to $10,000 for House members who bypass the Capitol metal detectors erected just outside the House chamber, following last week's insurrection, which left five people dead. While some Republican lawmakers have vocally resisted the new security protocol, with some calling the detectors an "appalling" infringements on their rights and others describing them as "unnecessary, unconstitutional, and endanger[ed] members," others have physically bypassed the metal detector entirely.
Nah, fam; not in Pelosi's House.
"Sadly, just days later, many House Republicans have disrespected our heroes by verbally abusing them and refusing to adhere to basic precautions keeping members of our Congressional community, including the Capitol Police, safe," Pelosi said in a statement, per HuffPost. "It is tragic that this step is necessary, but the Chamber of the People's House must and will be safe."
According to HuffPost's Matt Fuller, at least 10 Republicans have refused to comply with the new safety measure. "The group just literally pushed through and the cops guarding the door didn't seem to know what to do," he tweeted on Tuesday.
The GOP lawmakers Fuller watched either refuse to walk through the metal detector or stop when it beeped include Reps. Randy Weber (Texas), Richard Hudson (N.C.), Ralph Norman (S.C.), Scott Perry (Pa.), Jeff Duncan (S.C.), Bob Gibbs (Ohio), Bob Latta (Ohio), Garret Graves (La.), Markwayne Mullin (Okla.), Virginia Foxx (N.C.), Paul Gosar (Ariz.), Bill Huizenga (Mich.), Alex Mooney (W.Va.), Larry Bucshon (Ind.), Debbie Lesko (Ariz.) and Rep. Lauren Boebert (Colo.).
According to Reuters, newly elected Representative Boebert was seen setting off the metal detector alarm on Tuesday evening and refused to allow her bag be searched before entering the Chamber. Boebert is a Republican who, again per Reuters, has vowed to carry her Glock pistol to work in the Capitol.
"I am legally permitted to carry my firearm in Washington, D.C. and within the Capitol complex," Boebert tweeted earlier this week. "Metal detectors outside of the House would not have stopped the violence we saw last week — it's just another political stunt by Speaker Pelosi."
According to HuffPost, the acting House sergeant at arms told members earlier this week that the metal detectors set up to ensure a "safe and secure environment," and said firearms are restricted to a lawmaker's own office.
"Magnetometers are being placed at selected entrances to the Chamber," the statement reads. "Failure to complete screening or the carrying of prohibited items could result in detail of access to the chamber."
Per the proposed rule change, House members will be fined $5,000 for the first offense and $10,000 for the second. The penalties will be deducted directly from their salaries, and the Democratic-led House will vote on the rule change when they return to session on Jan. 21.
This isn't the first time this week Pelosi's laid down the hammer, either.
Earlier, Pelosi imposed fines for those failing to wear face masks amid the pandemic, which is currently seeing skyrocketing cases and deaths across the country. First offense would lead to a $500 fine, while second offense would lead to a $2,500 fine.
Get 'em, Pelosi.