Restaurant Hopes Some Sucker Will Name Their Child Quinoa For $10,000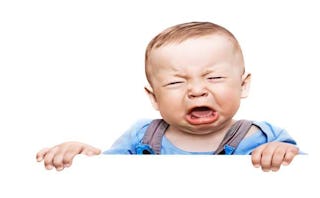 BJ's, a family-friendly brewery, is offering some lucky parent $10,000 worth of crispy calamari or chicken lettuce wraps in exchange for their new child's dignity. What a deal!
The restaurant is launching a new line of quinoa bowls, and what better way to promote their new healthy menu item than by seeing if any parents would be willing to name their child after a superfood for the chance at winning $10,000 in BJ's gift cards. "We are so excited to introduce these amazing new Quinoa Bowls that we wanted to do something big, maybe even a little crazy," said Kevin Mayer, chief marketing officer at BJ's Restaurant & Brewhouse and crafter of horrible ideas.
All parents need to do is give birth to or adopt a baby between now and Labor Day, name that poor baby Quinoa, present BJ's with a birth certificate by October 21, and hope to hell that no other child named Quinoa was born before theirs. Then and only then will they get their $10,000 worth of BJ's gift cards. Warning: you cannot use the gift cards to purchase alcoholic beverages, so if you were planning on easing your mind for selling your child's identity for a brew-pub gift card by plying yourself with alcohol — no luck. Tax and gratuity also not included.
"Alternative spellings of 'Quinoa' will not qualify, and assigning the name as a middle name or nickname (i.e., anything other than the baby's first name) also will not qualify," according to the contest rules. Also, "by accepting a prize, the winner grants Sponsor the right to use the winner's (and his or her new baby's) name, voice, signature, photo and likeness for advertising, publicity, promotional and other purposes in any and all media, now or hereafter devised, throughout the world in perpetuity, without additional compensation, notification or permission, except where prohibited by law." What a deal. If anyone actually decides to do this, they've sold their child's likeness for all eternity for $10,000 worth of appetizers and delicious burgers. I'm sure their child won't mind once they are old enough to realize BJ's was the genius behind the "Pizookie" — a cookie in the shape of a pizza baked to order and served with ice cream. Yum.
If you think that no one would be crazy enough to actually do this to their child, Entrepreneur reminds us that "a baby born on 11/11/11, the release date of video game Skyrim, reportedly won his parents free games from video game company Bethesda for the rest of their lives when they named him Dovahkiin."
Someone is totally doing this.
This article was originally published on