Restaurant Owner Opens His Doors To Be Sure No One Is Alone On Thanksgiving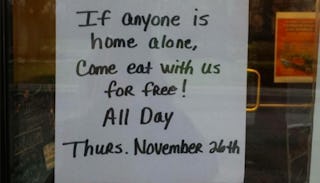 In the hustle and bustle to gather everyone for Thanksgiving, it's easy to forget there are people out there who don't get a fancy holiday meal. That's why one Michigan restaurant owner is going out of his way to make sure everyone in his town has a place to eat.
George Dimopoulos, owner of George's Senate Coney Island in Northville, is offering free holiday meals at his restaurant all day long this Thanksgiving. According to Today.com, it's a generous tradition he's practiced for the past decade, but his offerings recently went viral when a customer shared a photo of a sign advertising the event on Reddit.
Since the sign was posted online, it's been viewed more than three million times, and many have expressed a desire for something similar in their own hometowns. Dimopoulos tells Today the free dinner is something he does because he was alone and hungry at one time — he's a Greek immigrant, who moved to the United States at 23 and started a new life after being homeless during parts of his childhood.
On average, Dimopoulos serves Thanksgiving dinner to about 100 people each year. Many of them are homeless or going through a rough time, but others are just alone for the holidays and want some extra companionship. Says Dimopoulos, "I see people coming into the restaurant, and I say, 'Are you by yourself?' and they say, 'I am, I'm alone.' They need a little attention and help. That's what I believe. I don't care how much it costs. I make good money, so I can help those people."
It's an especially poignant gesture as many food banks report they're struggling to keep up with the demand for holiday food. According to NBC News, donations at some food banks are down as much as 20 percent. A representative for the food bank City Harvest tells NBC they have 3,500 turkeys to give away but still need about 6,000 more. That's common all over the country. Many people are struggling to get any food on the table, let alone a huge feast, and they don't have a lot of options. Kind gestures like the one Dimopoulos is making give people a place to go.
It's not very common these days to see a business owner putting people before profits, but this restaurant's holiday gathering is a good reminder of the importance of being caring and empathetic towards our fellow man. Dimopoulos will probably host more people than usual this year just because word has spread so quickly, but he might also inspire other restaurant owners to come up with similar ideas, and that's an amazing thing.
Kindness is contagious, and in today's world, we need to spread as much kindness as we possibly can. Kudos to George and his employees for practicing the kind of generosity and openness that Thanksgiving is really about.