Restaurant's No-Kids Rule Sparks Controversy -- And A Boost In Business
by Christine Organ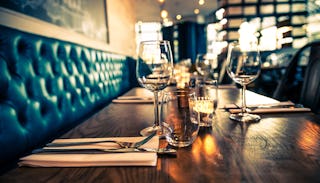 Image via Shutterstock
A North Carolina restaurant is seeing a surge in criticism – and reservations – since it banned children under the age of five
An upscale Italian restaurant recently put the kibosh on young kids dining in the restaurant stirring up applause, complaints, and additional dinner reservations. Following several instances of rowdy children disrupting the dining experience, the owner of Caruso's in Mooresville, North Carolina decided enough was enough in January. The tipping point was when the parents of a young girl playing on an iPad refused to turn down the volume. After the family ignored repeated requests to quiet the noise, the family was asked to leave – and all kids under 5 were henceforth banned.
"They were upset, but they didn't seem to care about what the other guests thought," Yoshi Nunez, the restaurant's manager, told the Washington Post. "We tried to be nice about the situation, but we're here to take care of customers and we can't tell a parent how to control their kids."
Not surprisingly, the restaurant's decision has sparked controversy among patrons and parents alike. Some people have criticized the restaurant for its exclusionary stance; others are applauding the restaurant for taking a stand. But regardless of the soapbox comments from all sides, Nunez said the restaurant has seen an increase in business, from about 50 diners a day to about 80 diners.
Caruso's is hardly the only restaurant to take a stand on the children-or-no-children debate. A couple years ago, a screaming baby prompted an Australian restaurant to ban children under the age of seven. Cuchara in Houston said "no kids" after a kid scratched the wall with a quarter, causing $1,500 in repair costs. And a restaurant on Monterrey's Fisherman's Wharf caused a stir when it posted a sign outside the door banning strollers, high chairs, booster seats, and loud children.
The no-kids trend isn't all that surprising. No one wants to have an expensive dinner and a few hours of kid-free time ruined by obnoxious behavior – whether it's obnoxious kids, adults, restaurant staff, or parents. We all want to be able to enjoy a calm and relaxed dining experience. And parents? Well, we just want to be able to finish a meal before it gets cold with dinner conversation that doesn't include cajoling a toddler to take "just more bite."
But even though children can be loud, distracting, and annoying, it's adults who are the real problem – whether it's parents who think misbehavior is cute and let their kids continue acting like assholes or whiny adults who complain about anything and everything.
After losing money and customers due to young children throwing food, running around, and screaming, he made the business decision to ban children under five. "I had several customers complain, get up and leave because children were bothering them, and the parents were doing nothing," he told the Tribune. "It started to feel like it wasn't Caruso's anymore, that it was a local pizzeria instead."
Caruso's owner Pasquale Caruso – a father of two himself — has gone out of his way to remind the public that his decision isn't about an intolerance for children, but about creating a certain atmosphere for the restaurant. "I try to please everyone, and create a nice atmosphere, keeping the restaurant elegant," he told Mooresville Tribune. "I want it to be a place where couples and friends can have a nice evening out."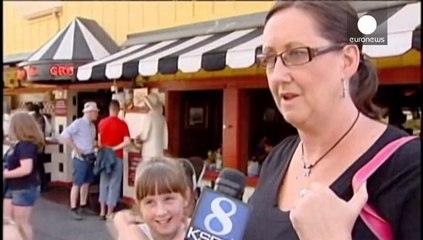 This article was originally published on