Kroger And LL Bean Join Companies Taking A Stand Against Gun Violence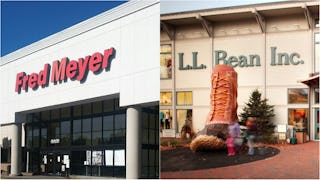 Images via Facebook
Kroger and L.L. Bean will no longer allow anyone under 21 years old to purchase a gun
In the wake of the Valentine's Day mass shooting in Parkland that left 17 people dead, most of whom were students, some major retailers have announced they'll no longer sell guns and ammunition to anyone under 21 years old — and it's about time.
Kroger, the country's largest grocery chain, is the latest to make the announcement. Kroger sells guns and ammunition at 45 Fred Meyer stores in four states. Unlike most of its stores, Fred Meyer stores that sell guns don't sell food — so you won't find AR-15s next to your meat and cheese.
"In response to the tragic events in Parkland and elsewhere, we've taken a hard look at our policies and procedures for firearm sales," Kroger said in a statement. "Recent events demonstrate the need for additional action on the part of responsible gun retailers."
It's already illegal to sell handguns to people under 21 years old, but federal law allows the sale of rifles (including AR-15s) to people 18 years and older. Kroger is the latest company to create its own age-based regulations that raise the purchasing age for all guns and ammunition sold in its stores to 21 years old, following in the footsteps of Walmart.
Dick's Sporting Goods also changed its weapons policy this week, announcing that it will no longer sell assault-style weapons to anyone in its stores. Walmart stopped selling assault-style weapons in 2015.
L.L. Bean announced its policy change yesterday in response to a tweet from a customer asking the retailer to stop selling guns to people under 21 years old.
Since the Parkland shooting, survivors and gun reform advocates have called for politicians to raise the purchase age for all guns to 21 years old. Parkland shooter Nikolas Cruz, who is 19 years old, legally purchased at least 10 guns, according to CNN.
But despite the push for these common sense changes to gun laws, lawmakers have looked elsewhere for solutions to school shootings. Florida lawmakers have already voted in favor of a $67 million bill to arm and train teachers to act as "armed school marshals." And Congress left Washington, D.C., without taking any federal action on gun control or school shootings.
It's been corporations, not lawmakers, who have taken a stand against gun violence since the shooting. Along with the companies making changes to their own policies, more than a dozen companies have severed ties with the National Rifle Association (NRA) since the tragedy.
Meanwhile, President Trump has met with NRA officials and tweeted his praise for the organization.
Despite lawmakers' unwillingness to act, the movement that's arisen from the shooting has captured the attention of corporations, creating at least some barriers for teenagers to obtain guns legally.
And while we never expected Walmart and Dick's Sporting Goods to emerge as leaders, we're grateful they are taking the common sense steps our politicians are unwilling to do to keep our kids safe.