Retiree Finds New Role As 'Grandpa' To 600 Elementary School Kids
by Valerie Williams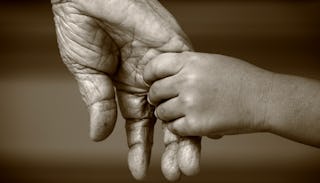 Image via Shutterstock
Every elementary school should have a "Grandpa Dale."
It can be tough for a retiree to find purpose after they stop working, but staying busy is important for their health and well-being. Schools are always in need of classroom volunteers, so what better combination than senior citizens and elementary schools? It seems like an arrangement that benefits everyone. That's what one Michigan school knows to be true as they're lucky enough to have Dale Allers helping out in their classrooms every week.
Dale Allers, aka "Grandpa Dale," has volunteered in the first grade classrooms of Ridgeview Elementary School for the last eight years, and according to School News Network, he's earned quite the reputation. ""He comes over and says 'Just try your best' and he always helps us out. And he fixes everything! He makes our whole school a better place," says Madison Sackett, one of the first graders Allers works with. By all accounts, the kids love him greeting him with hugs and fist bumps whenever he's in the building.
Allers, age 70, dedicates two days a week to the first grade classrooms of Marcia Powell and Megan Taylor, even making them coffee first thing in the morning. He also volunteers a half day for laminating papers and making copies. He has a long-standing relationship with Powell and Taylor, saying they're like "daughters" to him. According to Powell, the feeling is totally mutual. "He does everything we ask and more. And he always does it with a smile on his face, no matter what it is. He has such a great relationship with the kids. He's a great male role model for them, and we don't have many male role models in early elementary."
The Gerontology Network of Grand Rapids placed Allers in the school eight years ago as a means of supplementing his income but once he no longer needed the money, he chose to stay on as a volunteer. He had grown attached to the school and the "daughters" he assisted saying, "They're just so good to me and I love being here. I would hate to sit around home and do nothing. That's not me." Powell echoes that sentiment adding, "I wish every classroom could have a Grandpa Dale."
Wouldn't it be amazing if every classroom did have a Grandpa Dale? My 85-year old grandmother volunteers in this capacity as well, teaching first graders to read. She finds it incredibly fulfilling while the little ones enjoy her sing-song voice and endless patience. It seems like the best recipe — pairing seniors in need of companionship and a greater purpose with schools badly in need of help in the classroom.
Hopefully, stories like this spreading through social media will inspire schools to reach out to organizations like the one that placed Dale Allers and retirees to check in and see if their presence would be welcome in the classroom. It seems to work beautifully for all involved.