What You And Your Teens Need To Know About 'Revenge Porn' And Sexting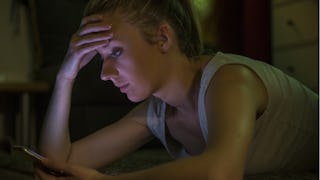 Dragana Gordic / Shutterstock
As if being a teenager these days wasn't hard enough — with the unrelenting academic pressures from school, the pressures to excel at sports, drama, and other extracurricular clubs, the social pressures from peers (and Snapchat and social media), all mixed in with the insanity of the modern college-application process — now we can add another potential danger and anxiety-inducing circumstance: revenge porn.
Yes, revenge porn among the teen set is a thing, and it's not limited to traditional pornographic video footage of people having sex. It includes still photographic images sent via text, instant message, email, and also includes "sexting." And if you think your teen or tween would never engage in any type of sexting or sharing of nude images via smartphone or tablet, the stats I'm about to run through will shock you back into reality.
A 2015 study conducted by dosomething.org concluded that almost 40% of teenagers have posted or sent a sexually suggestive message; 24% of 14–17-year-olds, and 33% of 18–24-year-olds have been involved in sexting at one point, and 11% of girls ages 13–16 have reported seeing these types of messages. According to the National Campaign to Prevent Teen and Unplanned Pregnancy, a survey of teens and young adults showed that 21% of teen girls and 18% of teen boys admitted to sending nude photos to other teens.
And to add insult to injury, young people naïvely believe that whatever is sent between two friends or a boyfriend and a girlfriend will actually only remain between those two, but human nature and another study tell us otherwise. One in 4 teens who vow to not share an explicit text and to keep it secret, do just the opposite. And exponentially that can mean disaster for all involved.
Still think your son or daughter could never be a victim (or perpetrator) of revenge porn? Now that I have your attention, here are a few things you need to know and discuss with your tweens and teenagers about revenge porn:
1. What is it exactly?
According to the National Conference of State Legislatures:
"Revenge porn is the posting of nude or sexually explicit photographs or videos of people online without their consent, even if the photograph itself was taken with consent." In other words, one person sharing one topless photo of an ex-girlfriend is considered under the law to be revenge porn.
Sadly, there are actual websites that exist solely to share this content (of adults only). While not every state has enacted specific laws to protect those over the age of age 18 from revenge porn — offering them the ability to prosecute their offenders — any type of nude image of anyone under the age of 18 is in fact illegal and not permitted on any website ever, whether the subject of the photo gave permission or not. To find out if your state has revenge porn laws, visit the website Cyber Civil Rights Initiative where you can find an interactive map to locate legislatures and bill sponsors in your area.
2. Teen sexting is actually illegal in most states and can lead to "sextortion."
Although across the country states differ on the minimum age of sexual consent, many states now do agree on and have laws against sexting or sharing nude images of anyone under the age of 18 (or 17 in some states). New York Times explains, "Teenagers who sext are in a precarious legal position. Though in most states teenagers who are close in age can legally have consensual sex, if they create and share sexually explicit images of themselves, they are technically producing, distributing or possessing child pornography."
3. Don't send them.
This needs to be drilled into your teen's head until you're blue in the face. As long as they are under the age of 18, it is never, ever, ever okay, and the laws are slowly becoming more serious about this with high fines, and in some cases, teenagers will even have to register as a sex offender if found to be in possession of nude images of minors. Now is the perfect time to start some long and serious discussions about sexual consent, and be sure to cover consent regarding their bodies and their cellphone cameras.
4. Delete them if you get them.
If a peer sends your teen a nude image, they need to delete it immediately. Keeping it on your phone or forwarding it makes you complicit in the spread of pornography. Also, never open unfamiliar files or emails on your phones, as many contain malware that gives the hacker access to your photos and is how many sextortion scams are initiated.
5. Fight back.
If your teen is the victim of revenge porn and is under the age of 18, by law any website hosting those images must remove them. Even more awkward is the fact that if your teen is the creator of the image (think nude selfie) they actually own the property rights to the image, and that essentially means the website is sharing it in violation of copyright. If your child is 18 or over, there is legal recourse. Again, check with your state's laws.
For more information and recourse, parents may also seek assistance through the Cyber Civil Rights Initiative, which seeks "to fight nonconsensual pornography and other forms of online abuse by providing victims with support and referral services; advocating for legislation to address such abuse; collaborating with the tech industry to develop design-based solutions; and educating the courts, lawmakers, law enforcement, and the general public about the nature and prevalence of online abuse."
Since most of our teens have access to various forms of media and are typically never without a smartphone in hand, revenge porn is something we can't ignore. We must educate our children about it.
This article was originally published on