Revisiting My Forgotten Lover, New York City, A Lifetime Later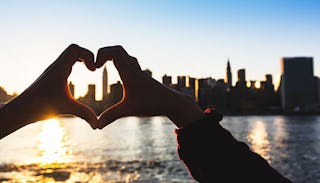 Her triage of artfully arranged photos—a sepia-toned antique truck, a fox in a suit, a black and white close-up of a sheaf of wheat—they mock me from the wall of her adorable Brooklyn apartment. Those pictures, along with her library of literary hardcovers and her collection of vintage vinyls propped up against an old turntable bludgeon me with the same silent message: Take a good look. This is the road you did not take.
On a recent business trip, as I walked with my high school friend and her friends down the quaint back streets of her Brooklyn neighborhood, she passionately pointed out interesting details of the houses, the restaurants, the architecture and history. She and her friends laughed as they told stories about the places they'd been together, the good times they had in this bar or that pub. They knew the best places to eat, the unique cocktail to order, the salad to die for. It was hard to suppress my jealousy.
Related: Best Cities For Single Ladies Looking To Date — Based On Actual Data
Fifteen years ago, in my early 20s, I wanted to move to New York sight unseen. I was drawn to the city like a misfit to the circus. At the end of my senior year of college in 2000, still living in my Midwestern hometown, I told my then-boyfriend I was applying for an internship at CBS in New York after graduation. We had the same major, and he thought applying was a good idea too. He got it. I didn't. Asshole. But I went to New York that year anyway to work, and afterward, I was equal parts swooning with desire and shaking in my pumps, painfully, literally, because New York has the hardest streets in the known universe and you will walk for miles.
New York was exactly what I'd expected and so much more. I fell wildly in love. Each time I visited, I'd walk for blocks and imagine which part of the city I'd live in. I'd look in the windows of apartments and thumb through "For Rent" flyers. I'd eavesdrop on conversations on the subway and scan job sites for postings. But I never allowed myself to seriously consider taking that leap; a naive 23-year-old, I was much too scared of falling.
Loving New York City was like having a crush on a hot guy who's out of your league. The longing can be excruciating. Eventually, I picked apart and highlighted the negatives—too expensive, too crowded, too impersonal, too dangerous—convincing myself that it wasn't really what I wanted after all, just to spare myself the agony of ultimate rejection. I reasoned that I had a foolish girl's heartache and should wise up and be more practical. Moving to New York was a dumb idea.
Like that too-hot guy, I forgot about New York. In the decade since I'd last set foot in the city, I married, left behind a career, had two babies, bought two homes, lived in two other cities, built a second career, became a writer and, now, started over after leaving an abusive marriage. My friend from high school has lived in New York City since the year I decided to give up on living in New York City. In the last 15 years, she built a successful career, formed a network of interesting friends, has a passport stamped on every page and is truly happy. She goes to bed every night snuggled up to my old crush, this sexy city. Listening to her stories about her 15 years in the city, it is clear that New York became her lover too, and they are very intimate. I was very jealous.
Over the two days with her, I'd been transported into some modern-day version of It's a Wonderful Life. I was smacked in the face with the alternative version of a life I did not choose, a life I could have lived if only I hadn't been so afraid of my own shadow. If only I hadn't been a bundle of insecurity and a needy little thing, trying hard not to fall for a lover who had the power to shatter me into a million pieces, maybe I too would be living in an eclectically decorated Brooklyn apartment, "leaf peeping" while antiquing in Connecticut on the weekends and taking biannual trips to China on business. Maybe I wouldn't be going through a nasty divorce or be a single mom.
Maybe I wouldn't have learned the hard way that a broken heart isn't the worst thing, but a heart you don't follow is.
As we walked down the streets of Brooklyn after having a fabulous dinner and drinks with her friends, I told my old friend about all the ways I loved her life. She put her arm in my arm. We were tipsy and wobbly from the cocktails. She admitted that she loved her life too. She also admitted that there was something missing. Then, she and her friend told me how difficult and daunting it is for people to meet one another in a city like New York. How impossible and improbable it can feel to find a single, similar fish in a deep, deep sea with 13 million aquatic varieties. I hadn't realized it, but I'd spent the entire night with three attractive, intelligent, late-30s women who have all been forever single. As it turns out, New York is everyone's lover, and the prospect of having another sometimes isn't as enticing.
As I walked through the city alone the next day, I thought about these lives: hers, mine and the one I didn't choose. I was on a break from the conference I was attending, and I wanted to walk. When I came to an intersection, I simply chose the direction that gave me the "go" signal. I did this for an hour while thinking about life and the paths we take and why. I can't say there was closure or zero regret or a feeling of acceptance or relief at the end of my walk. I only realized that you take the path you're brave enough to follow at the time. Maybe it's as simple as accepting the route that's giving you a "go" signal.
If you can find joy along the way, you're doing all right. If you can look back and say, I did the best I could, and if you can look forward and say, I'll try my best tomorrow, then that's all that matters, regardless of your zip code, your relationship status or how many artfully arranged photos you have on your walls. I don't think it's about the walls, or their location, but about the people you invite inside them and the love that remains when everything else is gone.
This article was originally published on