Rewatching 'thirtysomething' as a fortysomething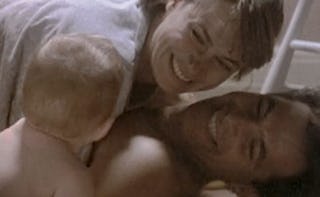 In a pink-tinged, ineffably '80s interior, gorgeous Hope and Michael lie on the bedroom floor; interrupted in their kissing, they beam as their adorable baby Janey crawls by. Right after I bought Season One of thirtysomething on Amazon and started watching it during the day (just while folding laundry, I swear!), I showed that first shot to my husband.
"This is what I thought marriage would be like," I told him over the pan-flute theme music, and we both giggled. But there really was at least one occasion in our lives when we were making out on the floor and our adorable first-born baby crawled by; I'm sure of it. Thanks to thirtysomething (just the credits!) I also had a crystal-ball view of some less picturesque moments: lunch with a glamorous single friend when your baby won't stop crying, and the day when your husband comes home to no dinner and a living room full of toys and you won't stop crying.
The show began in my senior year of high school and ran through my first three years of college. I didn't always catch every episode when it first aired, but my mother—one of the original recappers—would fill me in on the phone, and then I devoured the reruns in summer. I identified with almost every character in some way, but especially Melissa and Hope. I expected my life to go in a Melissa-to-Hope trajectory: cool urban existence in a creative field, transitioning smoothly into suburban motherhood and a picturesque but not disastrous struggle to achieve work-family balance.
Hope and Michael are at the center of the show, and their story is a primer for what marriage was starting to look like in the '80s. I remember watching with fascination as they negotiated shared chores, both household- and parenting-related. I was definitely taking mental notes (of course, I also take mental notes during Burn Notice, in case I accidentally become a spy). I also took note of their concern with keeping romance alive, but couldn't quite understand the problem.
At 18, I had a more natural connection to Melissa, awkward and neurotic, full of love she's so eager to share. I feared that I, too, would end up tethered to a commitment-phobic Gary, buying a jalopy as a spectacularly inappropriate gift for his surprise baby with another woman. The scene that made me cry the hardest when the show first aired was at Ellyn's wedding, when Gary's ghost reveals to Michael that Melissa and her boyfriend Lee will get married and "have a great kid." That might have been a clue to what I most wanted out of life.
I didn't have much interest in Nancy and Elliot then; they were unglamorous, and their marital problems just seemed embarrassing. Now, it is Nancy and Elliot's story that most often moves me to tears.
My urban existence turned out to be brief and my creative career—so far—elusive. Like Nancy, I fell in love in college, married young, had a son and then a daughter. My marriage hasn't come close to breaking, as theirs almost does, but I recognize what bends the Westons. At one point, Nancy explains to Hope that she and Elliot have somehow lost sight of each other. Elliot's departure is a betrayal, but their time apart helps Nancy rediscover herself as an artist—she publishes a picture book—a woman, and a person.
When they come back together, they have a new appreciation for each other and for the treasure of their history together. I keep watching the sweet moment when Nancy signals their reconciliation: Elliot is reinstalling their stereo in the house and says he plans to buy something smaller for his apartment. "I was just wondering … why you'd need two?" she asks slyly, and they swing into a dance as Stevie Nicks sings "I Still Miss Someone."
Nancy's cancer diagnosis is thus especially cruel. This, too, I almost glossed over the first time I watched the show. An adolescent who has been lucky enough to avoid firsthand experience with mortality really can't comprehend it. I am still lucky: Both my parents are alive, and I have not lost any friends to cancer. However, I have spent a night in the hospital with my desperately ill preemie son, wondering if every hour was his last; and in my real and virtual communities I see how cancer ravages lives and families.
Nancy's reprieve is followed, also cruelly, by Gary's accidental death. I remember my mother being particularly moved by that event. I was bewildered by the strength of my mother's reaction at the time, but now I think I understand. She was 47. In your forties, gut-wrenching tragedy seems to pick up speed and gather strength everywhere you look. Sometimes even TV trauma feels like more than you can stand.
What used to be a crystal ball to me is now a mirror: almost a rear-view mirror. I understand that life, and marriage, have tides and seasons—that existence is fragile and can be short. If we're smart, we'll start dancing to the stereo a lot more often. I might even try making out on the floor with my husband again. But my son won't crawl by if we do. He's at college.
This article was originally published on