Lisa Rinna Sort Of Made An Appearance On 'Real Housewives' This Week
by Kristine Cannon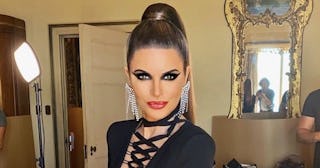 Lisa Rinna/Instagram
Tamra Judge and Braunwyn Windhamburke may have made out this week on 'RHOC,' but we're here for Lisa Rinna's Maleficent promo instead
If you didn't claw your eyes out after watching this week's episode of Real Housewives of Orange County, a) we're impressed, and b) welcome to the other side of what we're calling The Night RHOC Crossed The Line. This week, we watched Shannon Beador's 55th birthday celebration, or, as she called it, "The Hot Mess Express" — and boy was it ever.
Kicking off the episode, Tamra Judge made the bold decision to host part of Shannon's birthday party on a train to San Diego (and, yes, Kelly Dodd wasn't too pleased about it, telling the camera, "I'm trying to forget because it's the right thing to do"). We also saw the triumphant return of RHOC alum Meghan King Edmonds for (hopefully not just) this one episode. And from then on, as the ladies became more and more intoxicated, the messiness only continued to get worse, much to our surprise — from Kelly deep-throating a penis-shaped lollipop (yes, really) and a drunk Tamra falling off her chair to Braunwyn Windhamburke then straddling Tamra in a bar and the two of them drunkenly making out.
"I find you so f*cking hot," Braunwyn tells Tamra, who earlier in the episode admitted that she thinks of Braunwyn during sex with husband Eddie.
It was… a lot. And as we know, whenever the women of this show drink, screeching and screaming happens.
But at least Emily Simpson had a great sense of humor about it all.
But! If you were watching closely enough, this week's RHOC did have a shining, can't-miss moment — and it happened during one of the commercial breaks early in the episode.
Two words:
What about Real Housewives of Beverly Hills cast member Rinna, you ask? She stole the show with her Maleficent promo on Bravo, and it was everything.
Rinna teased a Maleficent partnership of some sort earlier this month, posting to Instagram a photo of herself rocking a Tom Ford black catsuit, a bold-red lip, dark-as-night cat-eye makeup, and a high ponytail. "We just call her Evil #Maleficent: Mistress of Evil @disneymaleficent #maleficent," Rinna captioned one of three sultry shots.
"She did not come to play," she captioned another photo.
And tonight, we finally saw it, the glorious Rinna-turned-Maleficent promo.
"True evil is doing what you want and not caring about your enemies," Rinna says in the promo as she holds up a pair of Isabel Marant crystal earrings up to her ears.
Needless to say, the commercial was a hit.
As @kablekimmy said, Rinna, you are iconic. Thank you for helping us forget about this week's RHOC mess.