Dorinda And Tinsley Kick Off 'RHONY' Season 12 With A Vicious Fight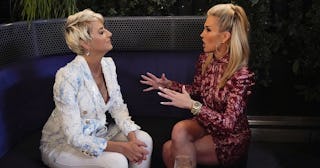 Heidi Gutman/Bravo
From Ramona's dramatic monologue to Dorinda and Tinsley's rooftop argument, the 'RHONY' premiere did not disappoint
The Real Housewives of New York City is finally back, and the show wasted no time dishing out the one-liners — and the drama.
The Season 12 premiere kicked off immediately addressing fan-favorite Bethenny Frankel's exit from the show. And, well, the rest of the RHONY cast couldn't care less — except for Sonja Morgan, who felt "abandoned" by Bethenny leaving.
"I don't even want to acknowledge it. It's so stupid," Ramona Singer said in a talking head.
"As they say in broadway: The show must go on — without you," said Luann de Lesseps who ties for best tagline this season with new housewife Leah McSweeney, a born-and-bred New Yorker; mother of 12-year-old, Keir; and the owner of streetwear brand for women, Married to the Mob. But we'll talk more about this great addition to the cast later.
First, this season's taglines:
Dorinda Medley: "I'm not always right! But I'm never wrong…"
Sonja: "I'm no one's accessory. I'm the whole lifestyle brand."
Ramona Singer: "I don't need to buy love. I love myself."
Leah: "I may float like a butterfly, but I sting like a bitch."
Tinsley Mortimer: "Life isn't a fairytale, but I'm hoping mine's the exception."
Luann: "Raise the curtain, lower the lights, I'm taking centerstage in my life."
After watching Luanne's emotional exit from court, signaling the end of her probation journey, and Sonja immediately confronting Luann about her entitled behavior last season (great timing, Son), we meet boxing gloves-donning Leah, who's introduced as Tinsley's friend, at a boxing facility (hence the tagline) where we're also introduced to a menacing boxing instructor who gives us Game of Thrones Gregor "The Mountain" Clegane vibes.
Tinsley reveals she's dating a guy, Bruce (not Scott), but what's really caught our attention is Leah talking about her relationship with her daughter, Keir.
"I don't know any other mother-daughters that have what we have. We're best friends, we're mother-daughter, we're soul-mates, we're life partners. I don't know if that's healthy or not, but that's how it is," said Leah, who we also learn doesn't mix well with alcohol. Foreshadowing much, Bravo?
After watching Dorinda and John make lasagna together and Dorinda tell the story about how she broke a rib, we see Ramona having a breakdown in the middle of a bar. Here, she admits she feels alone. That's an understatement; what she really says is:
Honorable mentions for best one-liners include Dorina, The True Entertainer of the Group™'s declaration that the RHONY cast is comprised of bad bitches:
And Luann's mantra this season:
But the crux of this episode — and the real source of drama — is the argument between Dorinda and Tinsley at Dorinda's end-of-summer party at Magic Hour rooftop bar.
"Tinsley gives me this whole speech about she doesn't want me to these conspiracy theories anymore about her life. I told her, 'I tell it like I see it,'" Dorinda says while getting ready.
"I can't understand why Dorinda is so focused on me right now," Tinsley says in a talking head. "It seems like Dorinda is clearly having something going on in her own life that is upsetting her and making her unhappy, and she's projecting it onto me."
"I just don't know anything about her," Dorinda then says simply. "The minute you try to get deep at all, she retracts."
In a nutshell, Dorinda thinks Tinsley's fake, and she's upset about Tinsley's lack of transparency with the rest of the women, including regarding her on-again, off-again relationship with Scott.
As the two women get into it at the party, Leah asks Tinsley, "How are you going to let her talk to you like that?" followed by asking Dorinda as she mocks Tinsley, "Why are you acting like this? You're acting, like, crazy!" This is clearly just a precursor of what's to come from Leah — and we can't wait.
To wrap up the episode, Tinsley drops a line that just might rival her "Yeah, I'm drinking, Luann" quip from last season: "You're a jealous bitch, bitch."
And there you have it, the premiere to end all premieres — proving once again that the women of RHONY are unrivaled pros.
RHONY airs Thursdays at 9/8c on Bravo.
This article was originally published on