Dancing Dentist In Viral Video Has Women Everywhere Feeling Things
by Julie Scagell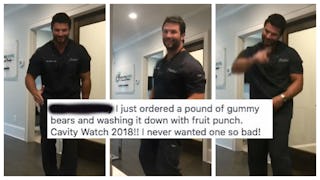 Image via Facebook/Constantine Dental
Come for the video, stay for the comments
A Greenville dentist has taken the internet (and "hearts" of women everywhere) by storm after his dental practice posted a video of him doing the Drake-inspired "In My Feelings" challenge.
A bit of background on the challenge: it started on June 29th with Instagram user and popular social media comedian Shiggy dancing to Drake's hit "In my Feelings" from his new Scorpion album. Shiggy hashtagged the video #DoTheShiggy and the rest, they say, is history.
Since then, it's become an internet sensation with celebrities like Ciara, Will Smith, and Sterling K. Brown getting in on the challenge. But it's Dr. Rich Constantine that's got millions of women feeling all of the feelings. If you haven't seen him — I mean it, yet — take a gander:
I'll pause while you collect yourself.
The video, which was captioned "Dr. C accepted the In my "filling" challenge today!" (see what they did there) has already racked up more than 27 millions views because, duh. But if there's anything better than the actual video itself, it's the comments section. Those, they say, are comedy gold:
"Every day I look forward to seeing a patient that has been reluctant to come to the dentist because of a previous bad experience or a patient that is unhappy with their smile. It is very rewarding to be able to give that person the smile they deserve," he says on his practice's website. I'm pretty sure all of his patients leave his office smiling.
For those of you wondering, the good doctor is already taken. His "beautiful wife, Trish" and he met during college at Ohio University and got married right before he started dental school.
The marketing company that helps Constantine moderate his online presence told Fox Carolina that his practice is nearly three years old, and "Dr. Constantine is a young, forward-thinking guy who is chill and likes to cut loose from time to time when he isn't taking care of his patients."
Judging by all the comments, it's a fair bet Constantine will be getting an influx of new (female) patients in the near future. A handsome doctor that can dance and take care of your, um, mouth? Sign us up.