Rick Moranis Returns To The Big Screen For New 'Honey I Shrunk The Kids' Film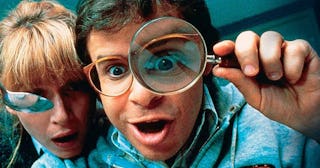 Walt Disney Pictures
After a nearly 25-year hiatus, Rick Moranis is back
Fans of Rick Moranis, it's time to do a happy dance. The Second City Television (SCTV) alum and star of major blockbuster hits like Ghostbusters, The Flintstones, Spaceballs, Little Shop of Horrors, and Parenthood, is making a comeback in a sequel to the beloved Honey, I Shrunk the Kids series titled Shrunk, Deadline reports.
RELATED: Who You Gonna Call? These 'Ghostbusters' Toys, Because They're Freakin' Awesome
Disney was trying to keep Moranis' return under wraps, but some news is just too good to keep secret. As previously reported, the movie's original director Joe Johnston is returning for the project, with Frozen's Josh Gad also starring in the film. The movie will center around Gad's character, who is the son of Moranis' character, Wayne Szalinski, an aspiring scientist that also manages to shrink his kids. The 1989 movie was such a hit, it lent itself to two sequels, Honey, I Blew Up the Kids and Honey, We Shrunk Ourselves.
Moranis hasn't been seen much since, stepping away from on-screen acting to raise his kids. His wife, costume designer Ann Belsky, died from breast cancer in 1991, and he struggled to balance single parenting with acting. "I'm a single parent, and I just found that it was too difficult to manage raising my kids and doing the traveling involved in making movies," he told USA Today in 2005. "So I took a little bit of a break. And the little bit of a break turned into a longer break, and then I found that I really didn't miss it."
Moranis did some voice-over work in such films as Disney's Brother Bear movies and The Animated Adventures of Bob & Doug McKenzie; and, coming up, Moranis will appear in Netflix's Martin Scorsese-directed documentary An Afternoon With SCTV. SCTV was a sketch comedy show that gave Moranis and others, like Catherine O'Hara, Eugene Levy, and Joe Flaherty their respective big breaks in the late '70s and early '80s.
Honey, I Shrunk The Kids is a movie that's a must-see for kids of all generations. You get to see Moranis' kids nearly miss getting hit by truck-sized drops of water, make friends with a giant ant, fight a scorpion, and take on a giant cookie (which is just a regular cookie, but when you're only an inch tall, it's massive). It's the quintessential make-believe world that all kids should get lost in.
It would be impossible to imagine another sequel without Moranis' quick wit and nerdy charm. He declined an offer to appear in the 2016 all-female Ghostbusters reboot and doesn't have a role in the forthcoming Ghostbusters: Afterlife, due for release in July, but we're over the moon that he's joining the cast for Shrunk, which will appear on the big screen and not on Disney+.
This article was originally published on