'Ridley Jones' To Feature First Nonbinary Character In A Netflix Preschool Show
by Madison Vanderberg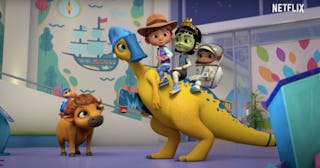 Netfix/YouTube
Netflix's latest preschool show features the streaming platform's first nonbinary character in a kid's show
Premiering next month under the streaming service's "Representation Matters Collection," Ridley Jones is a new Netflix series aimed at the preschool set with a progressive and groundbreaking new distinction: it's the first preschool show on Netflix to feature a nonbinary character. Happy Pride!
Ridley Jones stars a 6-year-old girl who lives in a treehouse inside the Museum of Natural History with her mother and grandmother and at night, the museum "comes alive," so to speak.
One of those museum exhibits that "comes alive" is Ridley's pal Fred, a bison, who happens to be nonbinary.
Fred, the bison, is a central character on the show, and one of Ridley's friends. West Side Story's Ezra Menas will play Fred, the nonbinary bison. Menas, who is nonbinary, also voiced a nonbinary animal character in DreamWorks Animation's Madagascar: A Little Wild for their recent Pride episode. To have a nonbinary character voiced by an actor who identifies as such is equally profound, considering Hollywood has a bad track record with casting cis actors in trans roles, which basically negates the entire purpose of being inclusive.
Children's program really is killing it lately with LGBTQ+ content. Blue's Clues recently released a Pride-themed episode centered around the drag queen and Drag Race star Nina West. The show literally turned Nina West into the cutest cartoon.
West joined the show to sing a song about all the different ways that families can exist. The Blue's Clues sing-along video showcases families with two moms, two dads, ace, pans, trans, non-binary, and bi parents as they make their way through the Pride parade route, flags flying proudly.
Now Netflix's latest series Ridley Jones joins all the progressive and inclusive content happening in children's programs, and it's honestly great to see. Some may say it's corporate pandering, but for children to learn about and be exposed to trans and nonbinary identities at a young age may profoundly affect a queer child's life. That's cool. It's also cool that the star of the show is a young girl in the so-called "Indiana Jones"-role as a fearless adventurer.
"I really wanted to do a series where a girl was the action-adventure star I always wanted to see (or be) when I was growing up," creator Chris Nee said in a press release (via Romper). "Like so many of my shows, this world is a perfect canvas upon which to create a community of oddball characters and model what it means to take care of each other, even if you aren't from the same era of time or wing of the museum."
Ridley Jones lands on Netflix on July 16, 2021, though the first episode is already available to watch on Youtube, now.