Rihanna's Foundation Donates $5M Towards Coronavirus Response Efforts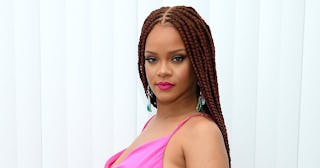 Dimitrios Kambouris/Getty Images for Fenty
The funds will go toward stocking shelves at local food banks in the U.S. – and more
Singer, songwriter, body positivity champion, and fashion designer Rihanna has given $5 million to help with coronavirus prevention, preparation, and response efforts through her Clara Lionel Foundation (CLF).
"CLF is supporting on-the-ground partners working on the frontlines of disaster response especially those focused on protecting and serving marginalized communities – helping the most vulnerable in the United States, the Caribbean and in Africa prepare for what is to come," the foundation said in a statement.
The funds will go toward stocking shelves at local food banks in the U.S., acceleration of testing in countries like Haiti and Malawi, protective equipment for frontline health workers and diagnostic labs, healthcare worker training, and distribution of respiratory equipment.
The contribution will be directed toward Direct Relief, Partners In Health, Feeding America, the International Rescue Committee, and World Health Organization's COVID-19 Solidarity Response Fund, among others.
The Clara Lionel Foundation is nonprofit organization founded in 2012 by Rihanna in honor of her grandparents, Clara and Lionel Braithwaite. The foundation funds groundbreaking education and emergency preparedness and response programs around the world.
"Over the past five years, CLF has been one of the first organizations to respond to some of the world's most devastating natural disasters, and we've seen firsthand the profound and unintended consequences of not being prepared," its website states.
The singer gave an impassioned speech at the NAACP awards earlier this year about the importance of fighting together, not apart.
"We can't do it divided. I can't emphasize that enough," she said. "We can't let the desensitivity seep in — the 'if it's your problem, it's not mine.' 'It's a woman's problem.' 'It's a black people problem.' 'It's a poor people problem.'"
As of today, more than 300,000 people worldwide have contracted the coronavirus and at least 12,944 have died with numbers increasing by the minute as tests become more widely available. Is the U.S., states such as California began issuing shelter-at-home orders to prevent the spread of the virus, and much-needed medical supplies continue to be in short supply.
"Never has it been more important or urgent to protect and prepare marginalized and underserved communities – those who will be hit hardest by this pandemic," said Justine Lucas, executive director of the Clara Lionel Foundation.
The foundation did not mince words, saying in part, "It doesn't matter who you are or where you're from, this pandemic will affect us all. And for the world's most vulnerable, the worst may be yet to come."
Information about COVID-19 is rapidly changing, and Scary Mommy is committed to providing the most recent data in our coverage. With news being updated so frequently, some of the information in this story may have changed after publication. For this reason, we are encouraging readers to use online resources from local public health departments, the Centers for Disease Control, and the World Health Organization to remain as informed as possible.
This article was originally published on