Rihanna's Body Positive Runway Show Is Everything Victoria's Secret Isn't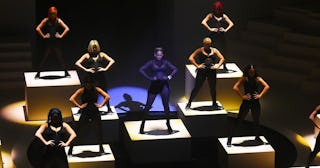 Ben Gabbe/Getty
The Fenty x Savage show is being applauded for how body-positive and inclusive it is
Rihanna's Fenty x Savage runway show just took place during New York Fashion Week and the reviews are in — RiRi nailed it. The event, showcasing Rihanna's more inclusive brand of lingerie, seemed to send a loud and clear message about bodies. That message? Body-positive is IN.
The event took place at Barclays Center in Brooklyn, New York and will stream worldwide on September 20th on Amazon Prime. But the show is already being applauded for its refreshing and empowering approach to fashion.
The vibe at the show was clear. It was all about, not just acceptance, but celebrating all kinds of bodies, not just the ones we've grown used to seeing represented at fashion shows.
Because of that, it felt very much like everything Victoria's Secret, which has come under scrutiny in recent years for its lack of inclusivity, is not. Harper's Bazaar said the brand "swooped in where Victoria's Secret failed, adopting a body-positive, size-inclusive approach to lingerie that celebrates and empowers a diverse spectrum of women."
After the show, Rihanna told Business of Fashion "There are a lot of women out there who are feeling in the dark, invisible. 'I can't try that on because I'm not made like that.' This is where you feel safe, right here at Savage." She went on to say she appreciates how Goebel "makes everything sexy despite society's ideal of what sexy looks like. I don't care about any skinny Victoria's Secret model when I look at Parris. I want to be that woman on the inside. I want to feel that confident, I want to feel that bombastic… That is the Savage brand."
While Victoria's Secret recently cancelled their annual fashion show, this event seems to have come at the perfect time. It seems like people are ready for a more inclusive feel, even in the modeling world. And Rihanna certainly delivered. The runway featured all body sizes and ethnicities. "Sorry, Angels, your time is up," Elle wrote.
Tons of famous models, actors and rappers, walked the catwalk. Stars like Cara Delevingne, Alek Wek, Joan Smalls, Laverne Cox, Gigi and Bella Hadid, Normani, 21 Savage and Christian Combs were all present. Knowing Rihanna's style, of course the performers were A-listers, too, like Halsey, Migos, DJ Khaled, Big Sean, A$AP Ferg, Fat Joe, Fabolous and Tierra Whack, among others.
The guest list was also off the chart. Anna Wintour, Diane von Furstenberg, Ashley Graham, Kacey Musgraves, Vanessa Hudgens, Ashley Benson, Hailee Steinfeld, Patrick Schwarzenegger, Lisa Rinna and Amelia Hamlin, to name a few names, all attended the show.
Well, at least we can attend through the power of Amazon.
We still have to wait a bit longer to watch the show, but you can buy the inclusive pieces now on Amazon Fashion. Of course, they're made for all shapes and sizes, ranging from 32A to 42H in bras, and XS to 3X in underwear, as well as sleepwear. Count us in.