Rihanna's Fashion Show Featured Pregnant Models And Was Diverse AF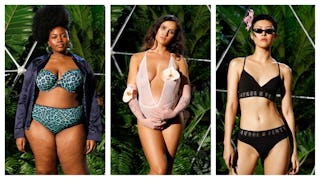 Image via Presley Ann/Albert Urso/Getty Images
Rihanna's Savage x Fenty fashion show was a glorious night of diversity and body positivity
Rihanna's lingerie brand Savage x Fenty brought it during New York Fashion Week. The ensembles were ridiculously sexy, the show was packed with dance and theatricality, and – best of all – it thoroughly embraced women of all shapes, sizes, and ethnicities. She even included two pregnant models — and every one of them looked amazing.
Okay, so, let's start with the backdrop first. It was an ethereal, lush green landscape that looked like it could easily be home to several nymph creatures and fairies.
Pregnant model Slick Woods walked the runway rocking sparkly black pasties and a bodysuit that highlighted her beautiful belly. Another expecting model wore white lace lingerie with a sexy opening in the front.
An incredibly diverse group of women strutted up and down that earthy green catwalk. They danced together and held hands and it was one big, beautiful celebration of womanhood and sisterhood. It was also yet another reminder that Rihanna is designing her lingerie for all women.
And then Rihanna came out and walked the runway to Elvis Presley's "Love Me Tender" while all of the models clasped hands around her. Be still my heart.
Video footage below if you want to experience the whole thing live.
The internet promptly applauded Rihanna for being so inclusive, particularly with pregnant women. Seriously, can we see more of this?
Rihanna spoke to ELLE ahead of the fashion show and noted that she has a lot of respect for women who want to work until their due date. Also, she noted, she wants to celebrate pregnancy "because that's like the VIP of womanhood."
"I'll never tell [Slick] she can't do a show unless she tells me I can't because I'm about to drop in a second," she said. The clothing designer went on to explain the reasoning behind her brand's inclusivity.
"I wanted every woman on the stage with different energies, different races, body types, different stages in their womanhood, culture," Rihanna said. "I wanted women to feel celebrated and that we started this shit. We own this. This is our land because really it is. Women are running the world right now and it's too bad for men."
This article was originally published on