Michigan Is Seeing A Rise In COVID Hospitalizations Among Kids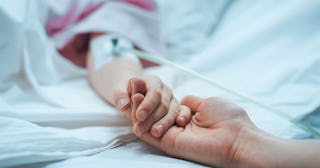 gorodenkoff/Getty
Back in March 2020 when the world came to a grinding halt, one single fact kept me (and no doubt most parents) somewhat grounded. It was this: kids are safe. By and large, early on it seemed that COVID spared children from the worst of its effects.
We've since learned that's not as foolproof a fact as we thought. Though children generally fare well better than adults, they can become COVID longhaulers, a condition where they suffer from symptoms for weeks or months post infection. Children can develop MIS-C, a rare complication which can lead to organ failure or death in extreme situations. And children, those with underlying conditions and those without, may require hospitalization.
Michigan Is Seeing A Rise In COVID Hospitalizations Among Kids
Children requiring hospitalization is the exact situation we're seeing in Michigan, where pediatric hospitalizations have surged. At the end of March, cases among kids in Michigan rose 133 percent from the previous four weeks. 49 children were hospitalized on April 12 with confirmed or suspected cases of COVID.
"The state is at a record high for hospitalizations for pediatrics during the entire pandemic and our hospital reflects that," said Dr. Rudolph Valentini, a pediatric nephrologist at Children's Hospital of Michigan and group chief medical officer for the Detroit Medical Center.
Medically vulnerable children are, in particular, bearing the burden of the rise in cases. According to Dr. Prashant Mahajan, an emergency medicine physician and division chief of children's emergency medicine at the University of Michigan's C.S. Mott Children's Hospital, "We are seeing the number of patients who are getting admitted who had a baseline illness, like say for example, asthma or Crohn's disease, increase. Those patients are now coming in with COVID."
The reason for the steep surge in pediatric cases isn't clear, yet. But researchers have theories.
Schools And Schools Sports May Be To Blame
In the first wave of the pandemic, Michigan shut down. Schools went remote. School sports were suspended. Restaurants closed their doors for in-person dining. Children did not have as many chances to interact. Likewise, when the state experienced a surge in November, in person interactions like school, sports, and dining were halted again. Again, opportunities for kids to interact diminished.
This time is different. The governor has encouraged schools to pause in-person learning for two weeks and has encouraged sports to shut down but has not mandated these measures. As a result, cases linked to schools and sports have increased.
The Detroit News noted that "Michigan has seen a 77% increase in cases since mid-February, mainly attributable to youth sports."
Transmissible Variants Have Arrived In Michigan
The variants are here in the U.S. and spreading. In early April, the CDC Director, Dr. Rochelle Walensky, confirmed that the variant first identified in the U.K., known as B.1.1.7, is the "most common source of new infections in the United States." The B.1.1.7 variant is definitely in Michigan. Michigan "has one of the highest variant rates of the U.K. variant, the B.1.1.7 variant," according to Valentini.
The B.1.1.7 variant is more transmissible. More transmissible means more cases, which no doubt at least partially explains the current surge among kids. Some experts even believe the variant is linked to more severe disease, but further research is needed.
In the U.K., the B.1.1.7 related surge led to 30 percent increase in hospitalizations within a week. The Prime Minister announced a national lockdown in early January, telling the nation that, "It's clear that we need to do more together to bring this new variant under control while our vaccines are rolled out." The surge in cases didn't necessarily lead to a rise in pediatric hospitalizations, but cases of MIS-C spiked.
MIS-C Cases Could Be On The Rise In Michigan, Too
"As we're seeing more and more (COVID-19) cases in young people, we fear that we will see more cases of MIS-C at the Children's Hospital," said Dr. Rosemary Olivero, a pediatric infectious diseases physician at Helen DeVos Children's Hospital.
Multisystem Inflammatory Syndrome-Children, or MIS-C, is a serious illness that can develop weeks after a COVID infection. It seems to occur more often in children who are seemingly healthy, rather than those who are medically vulnerable in some way, according to Olivero.
MIS-C is rare, and most cases of MIS-C are treatable. However, it's important to remember that doctors do not yet know the long-term effects of MIS-C. Children who develop MIS-C will most likely need to be under a cardiologist's care through adolescence.
As of late March, Michigan has identified 95 cases of MIS-C. Five of those cases resulted in death.
Vaccines Can Help—If Adults Get Them
In Michigan, more than 60 percent of folks aged 65 and over are vaccinated. However, children younger than 16 cannot be vaccinated at all, yet. Approved COVID vaccinations for kids, especially young kids, are likely a ways away. This means kids will be vulnerable to infection for a while.
For that reason, more than ever, it's up to the adults in the community to do what they can to protect them. That includes wearing a mask, keeping social distance, and getting vaccinated as soon as you are able to—because the less virus circulating, the better for everyone.
This article was originally published on