Rob Delaney Shares Painful Reality Of Life 14 Months After Losing His Son
by Cassandra Stone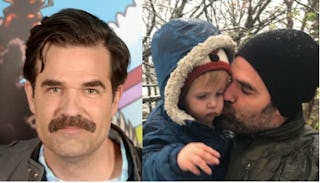 IMAGE VIA DAVE J. HOGAN/GETTY IMAGES/MEDIUM/ROB DELANEY
Rob Delaney shares a heartbreaking update on his grief during the last year
Actor and comedian Rob Delaney is opening up about what life is like for him 14 months after losing his son Henry, to cancer. He says it's important to him to be honest with the public, in case fellow bereaved parents or family members read his words and feel a little less alone in their grief.
"I'm a mess," Delaney says. "My child died 14 months ago and I'm basically a bag of wet rubbish. I need a lot of help. It has been very hard. It comes in waves. I've learned to not control how the waves come. Right now I'm sad a lot."
Henry passed away last January, at just two years old, after a lengthy battle with cancer. He was first diagnosed at 11 months old after a period of "effortless" and severe vomiting. After narrowing down the possible causes for his poor health, a pediatrician in London (where Delaney lives with his family) landed on the cancer diagnosis.
An MRI revealed a tumor in Henry's brain, which he had surgically removed. He spent several months in the hospital recovering and receiving treatment. Delaney wrote that his last months were "happy ones" in a heartbreaking essay just one month after Henry's death.
During a speaking engagement for The Rainbow Trust, a charity that helps families with seriously ill children, he told the crowd he's being honest and not trying to play it "cool" or be inspiring is for the sake of fellow grieving parents and siblings. "I've been sad and angry and I am telling you that just in case somebody else who has suffered a terrible loss reads this — so they don't feel like some asshole from TV has it all together. I am a lifetime work-in-progress."
Delaney, who currently stars on the hit Amazon Prime show Catastrophe, was candid about what his family's first Christmas was like without Henry this past December.
Delaney was one of the first comedians to rise to fame through Twitter, and he's always been known to share his thoughts and feelings on the platform — ranging from hilarious to heartbreaking, and everything in between. He hopes his honesty about losing Henry helps others to not "be afraid" of grieving people.
He and his wife have three sons together –Delaney says Henry's brothers are "devastated" and that "their pain is palpable." He was working on the fourth and final season of Catastrophe when Henry died — and says he was grateful he was able to afford to turn down work during the time his son was sick, but that working was still important to him. "I wanted my kids to see me work … I just wanted to project normalcy in an effort to maybe one day feel normal again."
This article was originally published on