Rob Lowe's Sons Relentlessly Troll His Instagram Feed
by Julie Scagell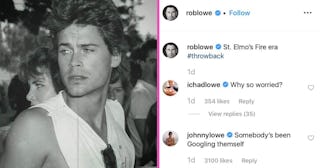 Instagram/Rob Lowe
Lowe's two boys hold nothing back with their dad
Kids are fun. You spend your entire lives raising them, providing for them, and doting on their every whim only to have them grow up and roast you in public. Fine, I haven't experienced that myself (yet) but it seems based on actor Rob Lowe's Instagram page that's exactly what we all have to look forward to down the road.
Rob Lowe has two sons, Matthew and John, who spend a good amount of time trolling their dad on social media. The results are comedy gold for all his fans and I'd assume brings a smile to Lowe's face as well because you just can't help but laugh with kids this funny.
Not only do they regularly rib him for Googling himself and "accidentally" standing in front of his many Emmy nominations for his work on hit shows West Wing, Brothers & Sisters, and Parks and Rec, they also give him shit for shirtless selfies, bad dad joke photo captions, and mostly just life in general.
For all the heat they give their old man, they seem to have an adorable connection, too. The trio has worked together on A&E's nonfiction series, The Lowe Files, in which they traveled around the country exploring unsolved mysteries. They've also given Lowe much love for inspiring them and pushing them to do great things. Son, Jon graduated from Stanford and his older brother, Matthew, graduated from Duke in 2016 and is now pursuing a law degree at Loyola.
Lowe has a lot of famous friends. He's been an actor for decades, winning fan's hearts in movies like St. Elmo's Fire, About Last Night, The Outsiders, and Youngblood. He was part of the "Brat Pack" back in the 80's and a heartthrob for generations of women because — hello, have you seen him? All of these details make a perfect recipe for his kids to make endless fun of him and we all get to benefit from the hilarity.
If you ever needed a reason to follow Rob Lowe (other than the aforementioned shirtless photos), his son's comments are even more of a reason to head on over to his page. When one fan told him to unfollow the page if he had a problem, he quipped, "unfollowing would be the easy way out. I will continue to fight the good fight."
When all else fails, we can always count on our kids to bring us crashing back down to the Earth when we're feeling slightly good about ourselves. You've gotta love them.
This article was originally published on