Rob Lowe Faces Backlash For Racist Joke About 'Chief' Elizabeth Warren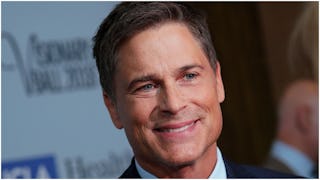 Image via JC Olivera/Getty
Rob Lowe tweeted, then deleted, a joke about "Chief" Elizabeth Warren
Twitter is already a pretty terrible place. Yet for some reason, there are some people who chose to make it an even worse place with stupid, insensitive jokes. Looking at you, Rob Lowe. The actor took to social media to quip that Elizabeth Warren is a "Chief," because of her claim to Native American ancestry. Suffice to say, that did not go over very well.
In a since deleted tweet, Lowe wrote: "Elizabeth Warren would bring a whole new meaning to Commander in 'Chief.'" This joke falls fairly comfortably in line with some of the president's rhetoric when it comes to discussing Warren and Native Americans in general, including his oh-so-unfunny nickname for her: Pocahontas.
Backlash was swift, and many people – including celebrities – explained to Lowe that his tweet was bad and told at the expense of Native American people.
Lowe returned to social media to respond to the criticism and his tweet was…um…kind of an apology? Kind of not an apology? It was a little bit of an "I'm sorry that made you feel that way" apology (the worst kind).
"I deleted my Elizabeth Warren tweet," he wrote. "It was a joke and some peeps got upset, and that's never my intention. On the GOOD side: I just got to use the Oxford comma!" Side note: he did not use the Oxford comma, because there needs to be three or more items, separated by commas.
Anyway, President Trump didn't seem to get the same memo that Lowe did. When Warren announced her run for president he tweeted: "Today Elizabeth Warren, sometimes referred to by me as Pocahontas, joined the race for President. Will she run as our first Native American presidential candidate, or has she decided that after 32 years, this is not playing so well anymore? See you on the campaign TRAIL, Liz!"
So, yes, that's a joke about the Trail of Tears, which forced thousands of Native Americans to leave their homes. Over 4,000 of those Native Americans died from disease and famine.
Last week, Warren apologized to Cherokee Nation Principal Chief Bill John Baker for identifying as Native American. "I told him I was sorry for furthering confusion about tribal citizenship," Warren told The Washington Post. "I am also sorry for not being more mindful about this decades ago. We had a good conversation."
In 1986, the senator wrote "American Indian" in the line asking for her race when she applied for the State Bar of Texas. She also recently took a DNA test to prove her heritage, which the Cherokee Nation Secretary of State Chuck Hoskin, Jr. described as "useless" and "undermining tribal interests."
"I can't go back," Warren said. "But I am sorry for furthering confusion on tribal sovereignty and tribal citizenship and harm that resulted."
This article was originally published on