Education Minister Says Malala Can't Wear Her Headscarf To Teach In Quebec
by Julie Scagell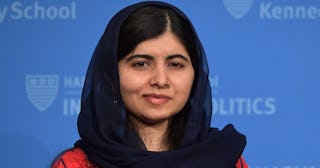 Paul Marotta / Contributor/Getty
Imagine putting this restriction on Malala after everything she's been through and accomplished
Jean-François Roberge, Quebec's Education Minister, posted a photo of himself standing next to Nobel Peace Prize winner, Malala Yousafzai, and the picture along with a subsequent tweet is causing collective heads to spin.
The pair were taking part in planning meetings to discuss education during the G7 in France next month when the photo was taken. Roberge's outrageous tweet was in response to a question by reporter Salim Nadim Valji over Twitter who asked, "Mr. Roberge, how would you respond if Mme Yousafzai wanted to become a teacher in Quebec?"
Roberge responded in part, "I would certainly tell her it would be an immense honour and that in Quebec, as in France … as well as in other open and tolerant countries, teachers can't wear religious signs while performing their duties."
Roberge was referring to Quebec's controversial Bill 21, legislation passed banning public sector workers such as teachers, police officers, and Crown prosecutors from wearing religious symbols on the job, all freedoms she's fiercely fought to protect. The bill sparked protests and much debate in the province after it was passed in June of this year, in part because many felt it singled out the Muslim religion.
The fact that he posted the photo in the first place after having just passed a bill taking away a person's right to show their religious beliefs is appalling. Going out of his way to mention it while answering a question about whether the world's youngest Nobel Peace Prize winner wanted to teach in his country is abhorrent.
The good folks of Twitter were quick to call him out:
https://twitter.com/jetpack/status/1147600764509888512https://twitter.com/jetpack/status/1147856571168411649
Yousafzai was just a little girl when the Taliban took over her small village in Pakistan in 2008 and, among other restrictions, told girls they were now unable to attend school. At eleven, Yousafzai said goodbye to her classmates, unsure if she'd ever see them again.
In 2012, she spoke out publically for a woman's right to learn and was later shot in the head by a Taliban member. Yousafzai, along with her father, eventually started the Malala Fund, a charity dedicated to giving girl's access to education. At just fifteen, she won the Nobel Prize in recognition of her work.
On the agenda for the G7 summit in August will be issues of early childhood education, girls' schooling, and teachers' training in developing countries. Yousafzai attended last year's summit, telling participants, "I hope that you will choose to be bold. I hope that you will choose to be smart. I hope that you will choose to invest in safe quality and free access to 12 years of education for every girl in every corner of the world, inside and outside of the G7 countries."
This article was originally published on