Robert Irwin Looks Exactly Like His Dad In New Koala Cuddle Pic
by Madison Vanderberg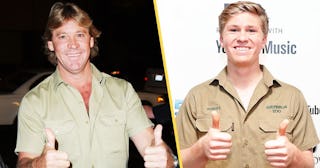 Jon Kopaloff/Lisa Maree Williams/Getty
Robert Irwin shares a photo with a koala that fans think is a photo of his dad Steve Irwin
Beloved wildlife expert and iconic "Crocodile Hunter" Steve Irwin died at age 44 after a stingray attack and since then, his children, Bindi and Robert Irwin, have kept his memory alive by becoming "wildlife warriors" themselves. The siblings have lovingly continued their father's legacy by advocating for all of Australia's unique creatures. But it's 16-year-old Robert who stepped into the spotlight today when he shared a sweet photo with a koala, which happened to be a near replica of a photo his father posed for a few years before he died.
Robert posted a photo from his family's zoo — the Australia Zoo — dressed in zoo khakis and cuddling up to a koala. We don't know if it's the slight overexposure of the photo which gives it a vintage feel, but everyone on Instagram thought it was actually a photo of his father Steve.
"Did anyone else think this was Steve at first?" wrote a fan. "At first I thought that was your dad!" said another. "Spitting image of Steve," wrote another.
Robert looks like his father a lot, just in general, but we think fans are referring to this iconic image of his dad taken at the same zoo just a few years before his death.
Over the summer, Robert also posted this photo, showing him and his dad, in the same clothes, feeding the exact same crocodile — 15 years apart.
Robert knows that their resemblance is uncanny but their bond is greater than just looking alike. Robert is following in his father's exact footsteps when it comes to wildlife conservation efforts and the Irwins' zoo hospital has been rehabbing animals affected or displaced by the devastating Australian brushfires. Robert speaks often of his and his father's love of animals, but he's truly walking the walk.
What a lovely family and an honor to carry your late father's legacy.