The Kardashian Family Share Beautiful Tributes To Robert Kardashian On His Birthday
by Kristine Cannon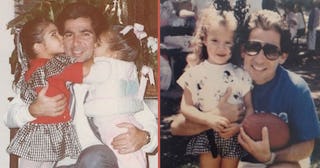 Kourtney Kardashian/Instagram, Khloé Kardashian/Instagram
'Miss you beyond understanding,' Kim Kardashian West captioned a black-and-white photo of her late father
On what would have been the late Robert Kardashian's 76th birthday, members of the Kardashian family, including his daughters Kourtney Kardashian, Kim Kardashian West, and Khloé Kardashian, shared moving tributes on social media.
"Happy Birthday dad! Miss you beyond understanding. Wish you were here to see it all!" Kim shared on Instagram alongside a photo of her with Robert.
"Happy Birthday to my Daddy," Kourtney captioned a photo of her and Kim as little girls.
Khloe, instead, took to her Instagram Stories to share a 14-image slideshow of her dad with her, her siblings; her mom, Kris Jenner; and more.
Robert was diagnosed with esophageal cancer in 2003 and passed away on Sept. 30.
Since, the family has consistently honored their late father/husband, posting tributes to social media on the anniversary of his death and on his birthday.
Kim, in particular, has seemingly been the most vocal of them all, though. Not only has she shared with fans the handwritten letters her father wrote to her, but she also believes the youngest of her four children, Psalm, is her father reincarnated.
"He's left-handed, like my dad," Kim told E! earlier this month. "So, all these things happen. I don't even know if I believe in reincarnation, but I do now. I want to believe it!"
In an episode of Keeping Up with the Kardashians, Kim was told that she would welcome another son "and that he was going to be [her] father reincarnated."
"She had no idea," Kim said of the blind medium she visited while on vacation in Bali. "No one on my crew knew that I had a surrogate that was pregnant with a boy."
Later, after she gave birth to Psalm, Kim told E! that a woman approached a nurse who was holding the baby and asked her, "Is this your son?" to which the nurse replied, "no." "Well, I just have to tell you, please tell their mom this is a family member of hers reincarnate," the woman then said.
"So, my whole family, all the time, thinks it's my dad and is just so emotional and close to him," Kim added.