Zelda Williams Asks Fans To Stop Sending Her That Viral Impression Of Her Dad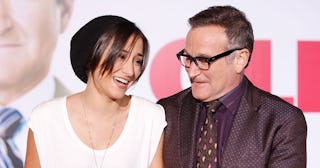 Michael Tran/FilmMagic/Getty
Zelda Williams has seen that video — so please stop sending it to her
The late Robin Williams has been trending for the past couple days on the heels of a mega viral video featuring an uncanny impersonation. Actor Jamie Costa posted a "screen test" video to YouTube on Monday in which he portrays the comedian in the era of Mork and Mindy.
Everything about the video is striking — Costa's face, voice, and mannerisms are all so incredibly like Williams. Costa's scene shows him as Williams getting ready for a day on set of the iconic 80s TV show when he's interrupted with terrible news: the overdose death of good friend and fellow comic John Belushi, whom Williams had been out partying with the night of his death.
The emotional video wracked up millions of views in a matter of days, and had Twitter clamoring to get Costa into the leading role in a Robin Williams biopic.
That all makes sense — the resemblance really is amazing — but overeager fans apparently didn't stop to think how jarring that video might be for the late comedian's family. Williams's daughter Zelda had to take to Twitter to ask fans to relax.
"Guys, I'm only saying this because I don't think it'll stop until I acknowledge it… please, stop sending me the 'test footage'," she wrote. "I've seen it. Jamie is SUPER talented, this isn't against him, but y'all spamming me an impression of my late Dad on one of his saddest days is weird."
We can't imagine what it must feel like to sit down at your computer and suddenly be inundated with people giddily discussing your deceased parent, let alone trying to discuss it with you. We can't blame Zelda at all for not wanting to be part of the whole uproar, especially given the tough time she faced online following her dad's 2014 death.
Williams' daughter faced unimaginable social media harassment in the wake of his death, including people sending her such disgusting photos and messages I won't even repeat them. The abuse was so bad it actually forced Twitter to reassess its harassment policies, according to CNN.
While clearly fans who sent her Costa's video had much different intentions, it still didn't feel pleasant to her — and that's totally understandable. Celebrities can seem so larger than life that when they die, it feels universal — and people sometimes forget that they were real people, with real families, whose mourning goes so much deeper than their own.
Luckily, Zelda's message inspired fans to rally around her and spam her with something way less emotionally devastating: cute picture of pets. Sometimes, that's really the best thing about the internet.