Experts Warn Of Explicit Content Lurking Inside Roblox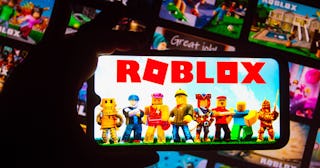 Rafael Henrique/SOPA Images/LightRocket/Getty
What parents need to know about condo games on Roblox
Roblox has tens of millions of users around the world — and some of them spend their time creating NSFW content that kids could easily stumble upon. One teen player spoke to the TODAY show recently about the problem of "condo games" — also known as "scented games". These anything-goes corners of the game are officially against the rules — but that doesn't stop them from popping up.
Briona Thoms told the show she wandered into what was basically a "virtual strip club" inside the game's interface, where digital characters were able to get naked. She was immediately grossed out by it — especially when she thought about younger users stumbling upon the same thing. "I don't think any parent wants to have that conversation when their kid's like, 5, 6 years old," she said. Other users have detailed similar scenarios, including happening upon characters simulating sex acts and using inappropriate language.
The company says it doesn't believe condo games are a widespread problem, according to a statement given to NBC News. "On the rare instances where we find or are pointed to people or content that violate our rules, our moderators swiftly remove it and take other strong actions," Roblox said. "It is misleading to suggest such isolated instances reflect the family-friendly Roblox experience."
But online safety experts say these condo games are an issue — and that bad actors are always coming up with new ways to get around the game's rules. "This is basically a game of Whack-a-Mole, whereby every single time they try to take down one or two different games, 12 to 20 get popped back up within a matter of minutes," said Common Sense Media's Jeff Haynes told TODAY. "There are … plenty of reports where predators have offered kids Robux to check out a game, check out this site."
The fact that Roblox has a chat function factors into the ability of predators to get kids into their condo games as well. Common Sense Media recommends parents consider tightly restricting or turning off the chat function altogether, and reminding kids not to talk to anyone they don't know. You can also set up a pass code that will prevent your child from changing your safety settings.
And as unappealing as spending your adult free time playing Roblox may sound, Connect Safely says that's another important way for parents to keep kids safe — stay close by so you can monitor what they're doing, and also to help you understand the game's features yourself.
What makes games like this so appealing to kids might just be that they're constantly growing and changing, and that there's always something new to discover. But with that comes new potential safety issues — and it's up to parents to help navigate them.