You Can Rent This Entire Castle In Italy For $100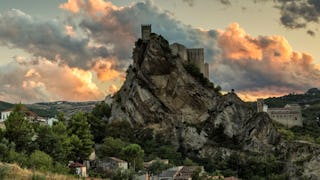 Image via Alfredo Costanzo/ClickAlps/REDA&CO/UIG via Getty Images
This Italian castle is a total steal for your next girl's trip
The holiday season is officially here, and we don't know about y'all, but we already need a break. Not with our partners and children — oh hell no. How about an all-girl trip to Italy for a giant castle party? The best part? It will only cost $100.
Oh yes. It's SO on.
According to CNN Travel, Roccascalegna is a castle nestled in the hilltops of the Abruzzo region of Italy. The huge (and gorgeous) structure is now being leased for weddings, parties, birthdays, or whatever other occasion you can think of for the insanely low price of $100.
Look. At. It.
https://www.instagram.com/p/BVUNzKWBVKV/
Oh yeah. You and your girls could definitely throw a rager (child-free, of course) while surrounded by the stunning scenery.
https://www.instagram.com/p/BI7Q7teBGdv/
Mayor Domenico Giangiordano is hoping to reel in visitors to the area, which has a declining population. "It's a real low fee, practically a tip," Giangiordano tells CNN Travel."Our goal isn't to raise cash but to use this unique setting to revamp the local economy by luring an elite clientele who loves tiny, offbeat spots."
There's a tower to host cocktail parties and unique spaces including former dungeons and torture rooms. For… a fancy lunch? I guess?
Um, we're elite AF, right? Sure. Just give us this castle for a few hours to sip wine and gossip.
https://www.instagram.com/p/BA9YwdvkWOp/
The 700-square-meter venue even has its own chapel for weddings, but who even needs it? This place was made for partying.
If all of that isn't enough to tempt you into booking this place, maybe knowing that you can conduct your own wine-fueled ghost hunt will entice you? Marcello Giangiordano, the castle's keeper and guide says the place is just a smidge haunted by Baron Corvo de Corvis, who used to sleep with all the village's newlywed women until a ticked off husband stabbed him to death. "Ghostbusters have slept here: they heard the baron screaming, running around like a madman," he says.
Sign. Us. Up.
The place is only reachable by foot via the stone staircase, so your whole outing can be totally secluded. What are you waiting for? Book it for a few days and invite us, please. We need this.