Drug Executives Criminally Charged In Opioid Crisis
by Cassandra Stone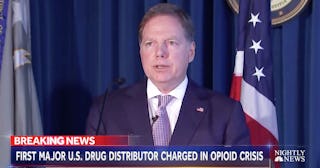 NBC News
The former CEO and another top executive of Rochester Drug are also facing criminal charges
This marks the first time in U.S. history a big pharma company has been charged criminally in relation to the nationwide opioid crisis. The federal government has charged Rochester Drug, its former CEO, and another top executive for their role in perpetuating the opioid epidemic.
Rochester Drug Cooperative, the sixth largest distributor in the U.S., is officially facing charges for conspiring violate narcotics laws and defrauding the federal government. Allegedly, the company willfully avoided reporting thousands of suspicious orders of opioids like oxycodone and fentanyl. The company essentially admitted to its wrongdoing in court yesterday, according to NBC News.
Rochester Drug connects opioid makers and pharmacies as their business practice. Former CEO Laurence Doud III and William Pietruszewski, the company's former chief compliance officer, are individually charged with conspiracy to distribute controlled substances and conspiracy to defraud the U.S. government. Both Doud and Pietruszewski face life in prison.
What makes this case so striking is it's the first time a pharmaceutical distributor and its executives are being held accountable for their role the devastating opioid addiction in the United States. And it's about time.
"This prosecution is the first of its kind: Executives of a pharmaceutical distributor and the distributor itself have been charged with drug trafficking, trafficking the same drugs that are fueling the opioid epidemic that is ravaging this country," says Geoffrey S. Berman, U.S. attorney for the Southern District of New York. "Our office will do everything in its power to combat this epidemic, from street-level dealers to the executives who illegally distribute drugs from their boardrooms."
This isn't the first time a drug distributor and major corporation has faced legal consequences in relation to the opioid crisis. Cardinal Health, CVS, McKesson, and Walgreens have paid tens of millions of dollars in fines recently. This is the first time a distributor has faced federal criminal charges, however. These charges have typically been reserved for drug dealers and traffickers in the past.
The U.S. consumes about 80% of the world's entire supply of opioids. In 1991, 76 million prescriptions for opioids were handed out, but recent numbers tell a far different story. In 2013, 207 million were handed out. It's a crisis indeed: overdose deaths involving prescription opioids have quadrupled since 1999 and so has the legal medical sale of these drugs. Approximately more than 1,000 people are treated in emergency rooms for opioid misuse each day.
Rochester Drug is accused of distributing tens of millions of doses of oxycodone, fentanyl and other opioids to pharmacies that its own compliance department found had no legitimate need for them between 2012 and 2016. In 2017, a new management team was put in place to focus on making "significant changes" and following compliance orders.
"One element of the opioid epidemic is a dramatic increase in the volume of prescriptions for opioids and all narcotics,"Jeff Eller, a spokesman for Rochester Drug, says in a statement. "From 2012 to 2017, we did not have adequate systems in place nor were our compliance team and practices rigorous enough to provide adequate controls and oversight over the increased demand for narcotic drug products from pharmacies."
As of this week, Rochester Drug has agreed to pay the federal government $20 million to settle civil and criminal claims it helped fuel the U.S. opioid epidemic.