Cops Handcuffing And Pepper-Spraying 9-Yr-Old Girl Caught On Body-Cam
by Christina Marfice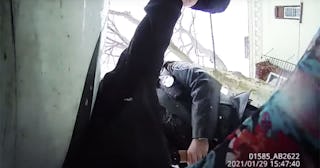 Rochester NY Police/Yotube
Graphic body cam footage captured officers attempting to force a 9-year-old girl into a squad car, and pepper spraying her when she refused to put her legs inside
Rochester, NY Police have already been under fire in the last year. In March 2020, police put a hood over Daniel Prude, a 41-year-old mentally disabled man's head, and he died, sparking national protests. Now, the force is again making headlines for using inappropriate and excessive force, this time for an incident with a 9-year-old girl that was captured on a body cam.
The graphic body cam footage has been made public on YouTube, and shows Rochester officers responding to a "family disturbance" call in which they were told a 9-year-old girl, who has not been identified, was suicidal. The videos shows that the girl is clearly distressed, especially when her mom appears and starts to argue with her. Two officers can be seen restraining each of her hands as she slides into a snowy street, thrashing and begging to see her dad.
Officers claim they were trying to transport the girl to a hospital to get help. But the body cam footage shows two officers trying to force her small body into the back of a patrol car. "You're acting like a child," one officer tells her, to which she responds, "I am a child." She continues to refuse to put her legs into the car, and a male officer says to his female colleague, "Just spray her at this point."
Moments later, the body cam footage shows the male officer pepper spraying the girl at close range as she screams in pain. She's left sobbing in the back seat of the patrol car as the male officer says, "Unbelievable," and closes the door. It's frankly chilling to watch.
During a news conference on Sunday, Rochester Police Chief Cynthia Herriott-Sullivan addressed the disturbing body cam footage.
"I'm not going to stand here and tell you that for a 9-year-old to have to be pepper-sprayed is okay," she said. Rochester Mayor Lovely Warren added that, as a mother of a 10-year-old daughter, the footage "is not anything you want to see."
"It is clear from the video we need to do more in support of our children and families," Warren said.
Advocacy groups say that the body cam video shows that even amid public scrutiny after Prude's death, nothing has changed in the Rochester police force.
"What we saw in that video is police escalating the situation rather than de-escalating," said Ashley Gantt, co-founder of Free the People Roc, a community activist group.
The girl in the video was taken to a local hospital and discharged later the same day. Rochester police have refused to comment on whether the officers involved in this incident are facing any disciplinary action.
This article was originally published on