CDC Tells Everyone In The Country To Throw Away Their Romaine Lettuce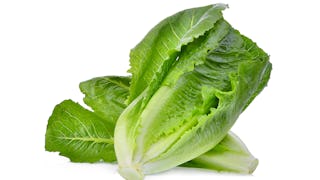 Image via Getty Images/Boonchuay1970
Just go ahead and throw away all of the romaine lettuce — all of it
The Centers for Disease Control is warning consumers about a fresh outbreak of E.coli linked to romaine lettuce. At least 32 people are sick nationwide.
"Consumers who have any type of romaine lettuce in their home should not eat it and should throw it away, even if some of it was eaten and no one has gotten sick," the CDC says in a notice on their website.
Of the 32 people who are ill, 13 of them have been hospitalized amid the outbreak. Here are the states reporting E.coli-related illnesses so far: California, Connecticut, Illinois, Massachusettes, Maryland, Michigan, New Hampshire, New Jersey, Ohio, and Wisconsin.
None of these states are reporting deaths due to the E.coli exposure. The warning against romaine lettuce covers both fresh lettuce and bagged — as well as baby romaine, spring mix, and Caesar salad.
The CDC is urging restaurants and retailers to not serve or sell any romaine lettuce. "If you do not know if the lettuce is romaine or whether a salad mix contains romaine, do not eat it and throw it away," the CDC says.
The Food and Drug Administration says there isn't enough information to identify a specific supplier just yet, which is why it's safest to just throw away all romaine lettuce until further notice.
This is the second major outbreak of E.coli due to romaine lettuce this year. Back in March, government officials pinpointed an outbreak that affected nearly 60 people to the Yuma, Arizona area, as almost all romaine lettuce sold in the U.S. in the winter comes from that region. The FDA says this current outbreak is likely unrelated.
"While the strain of E. coli 0157:H7 seen in this outbreak is different than the one identified in the large outbreak in spring 2018 linked to romaine from the Yuma growing region, it does appear to be similar to the strain that caused a smaller outbreak linked to leafy greens that occurred in the fall of 2017 in both the U.S. and Canada," the FDA says.
Symptoms of E.coli-related illnesses can present themselves two to eight days after ingesting the germ. Most patients suffer from painful stomach cramps, bloody diarrhea, and vomiting, but some strains of E.coli can produce a toxin that damages the kidneys and cause a potentially fatal condition called hemolytic uremia syndrome.
Public health officials are working together to further the investigation.
This article was originally published on