If You Enjoy Watching Rom-Coms, You'll Love These 14 Books
by Sa'iyda Shabazz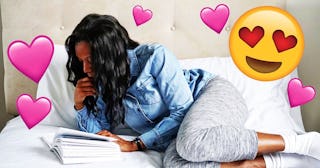 Scary Mommy and Cassandra McD/Reshot
Rom-coms are the best genre of movie ever made. Don't agree? You can fight me. This is a hill I'm willing to die on, folks.
Despite being just a smidge outside the realm of reality, rom-coms can actually be truly amazing films. And you know what? The same goes for romance books. Romance books are just like rom-coms, but better. You can do a lot more in a 400-page book than in a two-hour movie.
Related: How To Be More Romantic Without Spending A Dime
There's a reason romance books are a billion dollar industry. Anyone who has ever read a romance book can tell you why. Romance novels provide a great escape from the sh*tshow that is real life. Our main characters are usually messy yet lovable, and the romantic leads are always swoon-worthy.
Given the sheer volume of the romance novel genre, even if you devour these books, there will always be something waiting for you. All of the books on this list have come out in the last few years, many in 2019. So, if you're looking for new romance books to read, here are 14 of the best and most popular.
What if the first son of the United States fell in love with the Prince of Wales? In Casey McQuiston's debut, that's exactly what happens. Two hot dudes and some truly steamy/romantic love scenes make this book insanely popular, and one of the breakout romance books of 2019. Full disclosure: I loved it so much that I read it twice in six months.
The writing duo Christina Lauren are the heavyweights of romance books. Their latest book features enemies to lovers (one of the best romantic tropes) and it is so damn good. With dialogue like this, how could you not want to read it? "It sounds dangerous." This makes him laugh. "Dangerous, like we'd end up either naked or dead?"
Recently divorced Dr. Sloan Copeland needs a good nanny for her twin daughters. Enter Rafe Whitcomb, a buff, tatted male nanny who's also good in the kitchen. This may seem like it's going to be ridiculous, but the characters actually have real, honest conversations about their relationship. And the sex scenes are steamy.
Another enemies-to-lovers story (there's a reason it's a popular trope in romance books), Emily ends up volunteering at the Renaissance Faire with her teenage niece. Honestly, there's something hot about all those Renaissance costumes. Maybe it's all the leather and corsets? I don't know, but Emily can only get Simon's attention when wearing her wench's costume (duh), otherwise, he hates her. Also? He dresses as a pirate for the Faire. Is it getting hot in here?
You can't get much more on trend than Alisha Rai's book. It's truly a romance novel for the modern dating app generation. Rhiannon is a dating app developer who doesn't have time for romance. Hook-ups are allowed, of course, but protect your heart at all costs. The Right Swipe has a feminist, sex positive main character who is a black woman in a position of power. And there's a sexy, Samoan ex-football player love interest. Y-E-S.
After walking in on her boyfriend in bed with someone else, Georgina takes a job as a barmaid at a recently opened pub. Cue the slow burn romance with her new boss, a man from her past who doesn't remember her. Read this line, and then get the whole book: "What I was wondering is, if you too hope we have one of those first dates that turns into days and nights, not only due to lust but because we can't stand to be apart."
Olivia Charlton is the first openly gay princess, and engaged to a woman she doesn't love. And Olivia believes in true love, which isn't something her mother, the Queen cares much about. This quick, fun read is co-written by two popular writers of lesbian fiction. And it's dedicated to Meghan and Harry. It features several of the best tropes: slow burn romance, super steamy sex scene in a kitchen, and a royal pretending to be a commoner. Look, you can never have too many romance books with gay royals.
Stella believes the universal language is numbers, not love. That's why she's a rich 30-year-old with no dating experience. She also has Aspergers and she hires a professional escort to teach her everything she needs to know.
Looking for more romance books with black main characters? This is for you. Can you imagine getting multiple emails from an African prince? You'd think they were spam, especially if they were telling you that you're betrothed to said prince. This line is a hilarious example of what you're getting. "Your Highness. While I admit that you are a fine specimen of a man, being a lesbian is not the only possible reason a woman wouldn't respond to your attentions." Go read it right now!
Minerva is skeptic when it comes to love and happily ever after, and honestly, who can blame her. This book has lots of sassy dialogue and relatable story. Plus, there are Krispy Kreme doughnuts. Just saying.
This is the ultimate romance book for the rom-com fanatic. Annie is obsessed with rom-coms, she dreams of being the next Nora Ephron. When she gets a job on a movie set, you'd think she's got this whole thing in the bag. Except the lead actor is kind of an asshole. But if you've ever watched a rom-com, you know the asshole can sometimes have a heart of gold.
The night before his ex's wedding, Drew finds himself without a date. He also finds himself stuck in an elevator with Alexa. We've seen this plot before, mainly in Julia Roberts movies. But honestly, this book is so good, you won't even care about the trope. Just read it, okay?
If you like romance books with a lot of humor, pick this up ASAP. Keris Stainton is truly hilarious. After a breakup, Cat's life is kind of in the shitter. She's quit standup comedy, has a boring job, and two roommates: The One Who Eats All My Food, and The One Who Has Really Loud Sex. Meanwhile, Cat hasn't had sex in two years. But here's the dilemma: she might have fallen in love with her ex's brother. That's bad right? RIIIIGHT?!
I have a confession to make…I love the enemies-to-lovers plot line. Like, to an embarrassing degree. This book nails it so hard, no wonder everyone loves it so much. Lucy wants everyone to love her, and they do. Except for her hot albeit awful work rival. Work rivalries with hotties? Here for it.
Actually we're here for all of these.
This article was originally published on