You Can Make Your Roomba Look Like An Adorable Critter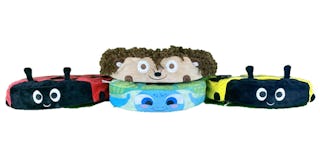 RoboRascals
Your Roomba does a very important job so why not dress it up with a cute critter costume?
Guys, my Roomba is my family VIP. No joke. I named him Bing and while he works away swiping up my children's endless supply of crumbs, I talk to him, coo at him, and thank him for saving me 17 million hours of sweeping and vacuuming per week. That's why I'm pretty pumped that I can give him a cool little costume to wear while he does his extremely important work thanks to a small business that creates plush-y outfits for your treasured robot family member.
Robo Rascals come in a variety of critter/insect designs and honestly, you can't go wrong. The company is owned by Francesca, who decided to bring an 18-months-in-the-making idea to fruition at the start of the pandemic. Perfect timing, honestly. My family is home all day with good ol' Bing and we were a little bored of his naked robot look.
There's Lucy the Ladybug.
And Betsy the Bumble Bee.
If cute buggies aren't really your jam, bring Hector the Hedgehog into your fam. (Not apologizing for rhyming, I own it.)
If sea creatures are more your speed, Tidy the Turtle has you covered (literally). I mean come on. He's precious.
But if you just can't decide, you can either roll with the Family Pack or get a twin set of any two creatures of your choice.
Aside from being truly adorable, these covers are kind of amazing for their ability to both look cute and protect your Roomba from getting all scratched up. I can't wait to dress Bing in his Betsy the Bumble Bee outfit so the underside of our hallway table stops leaving long claw marks on him. Bonus? Maybe this will stop my derpy black lab from being absolutely terrified when she hears him kick on.
One cover is $29.99, a twin pack is $54.99, or the entire collection will run you $89.99. Considering I want several more of Bing's friends to come into my home (hello, second floor) I may need the whole crew.
This article was originally published on