Rose McGowan Is Calling Out Hollywood Abuses — One Tweet At A Time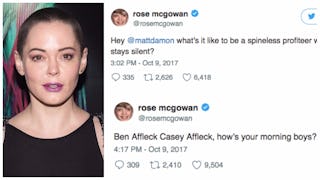 Image via Noam Galai/ Getty/ Twitter
#WomenBoycottTwitter in support of Rose McGowan
Tons of women are boycotting Twitter today, in support of Rose McGowan — a woman who has been vocal about Harvey Weinstein's abuses for decades. The actress's account was locked after she tweeted her support for the women coming out against Weinstein. She was very scathing on Twitter — and deservedly so. She was calling out those who she alleges repeatedly turned their heads at the alleged serial harasser's behavior.
The actress reached a $100,000 settlement with Weinstein after what the New York Times describes as "an incident in a hotel room at the Sundance Film festival in 1997." After hearing so many accusations against the man, you can probably almost guess what this incident consisted of — but the settlement sealed the details. Stories hint to notorious non-disclosure agreements floating around Hollywood that are silencing the women Weinstein harassed, abused, and worse.
Last week when the Weinstein shit hit the fan, McGowan took to Twitter.
The tweets started out just hinting at the abuses, but as time went on — she began to target people and institutions directly.
The Hollywood press bible, Variety:
The ladies of Hollywood who knew about the abuses:
Agents, directors, and producers:
Weinstein's brother, Bob:
She essentially called on the entire Weinstein board to resign.
Then began going after actors directly:
Casey Affleck has had his own sexual misconduct allegations, and stories are surfacing this week of Ben Affleck being a lecherous creep. Ugh. Does it end?
Then… her account was suspended by Twitter.
"Twitter has suspended me," she wrote. "There are powerful forces at work. Be my voice." And the people of Twitter who support her stood up. #RoseArmy began trending. And today, women and men are boycotting Twitter to stand in solidarity with the actress, and make a point that women will not be silenced.
A spokesman for Twitter told The Guardian that McGowan's account was temporarily locked because "one of her tweets included a private phone number, which violates the company's terms of service."
"The tweet was removed and her account has been unlocked," the spokesman said in a statement.
"Twitter is proud to empower and support the voices on our platform, especially those that speak truth to power," she added. "We stand with the brave women and men who use Twitter to share their stories, and will work hard every day to improve our processes to protect those voices."
McGowan didn't stop there. Next she went after Jeff Bezos, Amazon CEO. The head of the company's studio, Roy Price, just got suspended after sexual harassment accusations from a TV producer.
#WomenBoycottTwitter trended yesterday as people mobilized in support of the actress.
McGowan has been speaking up for years about an issue that just came to light. So if you ever question why women don't speak up, look at her story and maybe you'll figure out why. It takes guts to fiercely stand up to power, name names, and refuse to be silenced.
#RoseArmy