'Roseanne' Announces Gender Non-Conforming Character And Trolls Lose Their Sh*t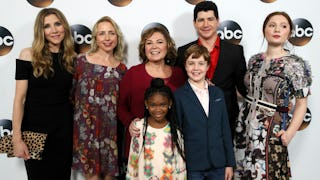 Image via David Livingston/Getty Images
We love this modern twist on the new Roseanne. Trolls? Not so much
It's been 20 years since the final episode of Roseanne aired, and a lot has changed since then. It makes sense that when the revival hits TV screens in March, some things won't be exactly the same. There's the return of Dan (John Goodman) for one — apparently we're just pretending he didn't get killed off in the finale. Darlene (Sara Gilbert) is all grown up, and has a son.
And that's where the new Roseanne is getting a modern twist that we're here for. The revival will reflect how our views of gender and stereotypes have changed in the last 20 years with a new character: Darlene's son Mark (Ames McNamara), who is gender non-conforming.
In a new interview with Entertainment Weekly, Gilbert, who is an executive producer on the revival, explained that Mark, who is nine years old, isn't gay or transgender. He's just a little boy who likes to wear "feminine" clothing.
"He's based on a few kids in my life that are boys who dress in more traditionally feminine clothing. He's too young to be gay and he doesn't identify as transgender, but he just likes wearing that kind of clothing and that's where he is at this point in his life," she said.
It's as simple as that. Mark is like countless boys and girls who have eschewed traditional gender roles to dress in the clothes they like and play with the toys they like, regardless of whether they're "for boys" or "for girls."
"We did a lot of research because we wanted to make sure and do it properly," Gilbert continued. "It represents the world. This is a show that's always been able to represent the world and talk about it without being so issue-heavy. We can do it through the dynamics of the family. I know kids like that and it seemed like a great character."
Of course, while we think it's great that Roseanne is trying to be representative of how the world actually looks in 2018, internet trolls are not. They took to Facebook in droves to leave some pretty awful comments about the inclusive storyline, with many of them saying the addition of Mark as a character means they won't be tuning in to watch Roseanne.
We're sure the show won't miss these viewers, though, and all the gender non-conforming boys and girls who will be able to tune in and see a character on TV that represents them will more than make up for it.