The Royal Christmas Cards Have Arrived And They're Beyond Delightful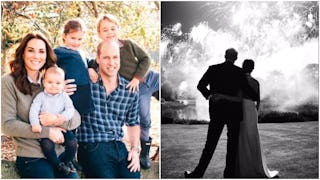 Image via Kensington Palace/Twitter
Meghan, Harry, William, and Kate have released their Christmas cards
Christmas cards from loved ones are great. But Christmas cards from the royal family? That's a whole other level of holiday joy. Both Meghan and Harry and William and Kate have released their cards and brace yourselves — because there's a large heaping of romance and cuteness coming your way.
William and Kate's 2018 card is basically casual perfection. They were pictured with the entire family, sitting amongst foliage, and it's one of the more dreamy family portraits we've ever seen. If we didn't know any better, this was just a fun, cool family in some New England town, posing for a J.Crew ad.
Also, Prince Louis is only seven months old and his smirking has officially stolen the entire show.
People were kvelling big time on Twitter. Nobody can agree on a lot these days, but they can agree that this entire family is adorable.
https://twitter.com/jetpack/status/1073534172860481537https://twitter.com/jetpack/status/1073533741795033088
Last year's photo definitely had a more formal tone. But no matter the vibe, royal Christmas cards are forever #goals. You know how your family group shots can come out a little…um…less than satisfactory? That's not really the case with this crew. Last year, they rocked powder blue and elegance — which is wonderful, but we think we prefer the foliage and jeans look TBH.
Okay, now we'd like to take you down a much different path. Meghan and Harry's Christmas card features a never-before-seen photograph from their wedding reception at Frogmore House in Windsor, England. They have their arms wrapped around each other, there's fireworks going off all around them, and your heart will probably burst a teeny, tiny bit (if you've been following their relationship obsessively, your heart will probably burst into one million pieces).
This prompted even more swooning and plenty of Twitter applause. The word "beautiful" was used roughly 100 times.
https://twitter.com/jetpack/status/1073554353292800001
Are we all having flashbacks to the wedding day when Meghan walked down the aisle and Harry bit his lip and said: "You look amazing"? Nope, just me? Okay, cool.
Sigh. Now, we should all probably move to England, sit amongst foliage, and live our best, most royal lives. Until then, we're off to rewatch every single Meghan Markle movie on the Hallmark channel.