The Royal Family Released Their Most Candid Photo Ever -- And It's ADORABLE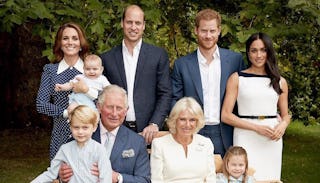 Image via Clarence House/Chris Jackson/Twitter
The royal family got pretty relaxed in new portraits taken to mark Prince Charles' 70th birthday
Because they must have sensed that we could use some good news across the pond, Clarence House just released new portraits of the royal family taken in honor of Prince Charles' 70th birthday. The whole gang's here including the littlest princes and princess and adorably pregnant Meghan Markle. The best part? One of the photos is the cutest candid, and by far, the most relaxed we've ever seen this crew.
"Two new photographs of The Prince of Wales and his family have been released to celebrate HRH's 70th birthday," they write.
Basically, they went with business first…
…and then the party. LOOK AT THOSE HAPPY KIDS.
Seeing the whole royal fam relaxed and cracking up laughing is pretty much the heart-warming sight we all need right now. Prince George giggling in his grandfather's lap, Princess Charlotte grinning while snuggled up to step-grandma Camilla who holds her close, and baby Prince Louis looking, well, like a sweet, chubby baby. This is simply too much good in one photo.
And we haven't even touched on the royal newlyweds.
Meghan Markle is happy as can be and clearly glowing while standing next to husband Prince Harry. Not to be outdone, the Duke and Duchess of Cambridge, aka, William and Kate, are beaming away while Kate wrangles little Louis.
Photographer Chris Jackson also shared the portraits on his Instagram and gave a little insight about how meaningful the photos are for him.
"I've travelled all over the world photographing the Prince of Wales for the last 15 years from Durbars in Nigeria to the Galápagos Islands, Pakistan, Japan and many more as well as well as covering numerous domestic Royal Engagements so I was delighted to have been asked to take these official portraits of The Prince surrounded by his family to celebrate the important milestone of his 70th Birthday. It was particularly special to capture such an informal and relaxed family portrait over a fun afternoon in the gardens of Clarence House," he wrote.
This isn't the first time in 2018 that we've seen them all posing adorably together. Remember Meghan and Harry's gorgeous wedding portrait?
And a few months later, all together again for Prince Louis' baptism.
The family has had a busy week with the "Fab Four" stepping out for Remembrance Day events at Westminster Abbey on Sunday evening.
Markle let the world glimpse her growing baby bump in her navy blue suit while she and Harry clutched hands. Be still our hearts.
We truly can't get enough of this sweet family and as it's mid-November, we can expect to see William and Kate's official family Christmas portrait. We cannot wait.
This article was originally published on