The Royal Family Shares Adorable Photos Of Prince George's First Day Of School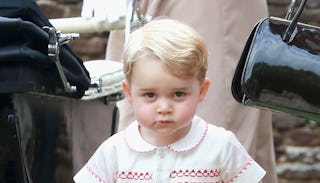 Image via Chris Jackson/GettyImages
Prince George started preschool and the photos are beyond cute.
Prince George hit an important childhood milestone today by attending his very first day of preschool. Of course, Prince George is not your typical preschooler, as his first day photos were Tweeted out to millions of eager followers. However, he's still just a little boy beginning a very big journey, like any other kid.
Duchess Kate and Prince William are notoriously protective of their children's privacy and the press mostly leaves them alone when they're with their kids. In return, the proud royal parents share photos of their kids on their own terms so the world can still have a glimpse at a growing prince and princess while still giving them some semblance of a normal life. Check out this peek into the little prince's first day of school. The look on his sweet face says it all. It's only the beginning and he has so much to learn.
Obviously, our little ones are just as adorable and special as Prince George, but he's on a world-wide stage with thousands of people retweeting his "first day of school" photos, so it's safe to say he's on another level as far as the world's interest in his life. Despite that interest, he's growing up largely out of the limelight. What makes this generation of the royal family so special is the way Duchess Kate and Prince William have shielded him and baby sister Princess Charlotte from the press. Considering how many people (like me) rabidly await any tiny detail or photo about them, that's pretty amazing.
According to People, the proud parents took George to school themselves and the photos shared on the palace Twitter account were taken by Duchess Kate herself. We all know these people aren't living a life like us Normals, which makes it undeniably sweet that Kate was lined up with all the other preschool moms snapping photos of their little ones on the first day of school.
And speaking of down-to-earth, the school George is attending is so…average. The Westacre Montessori School costs just $55 each day, which is a tad steep, but not far off from daily daycare costs here in the states. And definitely well below what the Duke and Duchess can afford. It's located in the quiet, country suburb where William and Kate primarily live and is only a short drive from their house. In every decision they make, it seems the couple tries to keep life as low-key as possible for their kids. Considering their resources, that's pretty incredible.
As they continue to grow, the royal family will probably keep showing us little bits of Prince George and Princess Charlotte's childhood. Considering the way the world loves them, it's very generous of William and Kate to give us these peeks into their family life. Hopefully, their willingness to share these special moments will keep photographers at bay so George and Charlotte can continue to grow up the way their parents want them to. As normally and quietly as possible.