Will And Kate Celebrate Christmas With New Family Photo -- And It's Adorable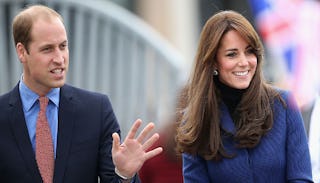 Image via Chris Jackson/GettyImages
The younger side of the royal family is beloved the world over for a reason — they're as real as people in their position could possibly be. Prince William and Duchess Kate have been generous with photos since the birth of their son and have never shied away from sharing the less-than-perfect moments. Their new holiday family picture is the best one yet and when you see it, it will look familiar. Because it could just as easily be your own.
Every year, Prince William and Duchess Kate share a Christmas photo with the public and obviously, it's always adorable. Since the birth of Prince George, the level of adorable has reached new heights but now, he has baby sister Princess Charlotte helping him out. The best part of all is how absolutely real this year's image truly is. Prince William and Duchess Kate look like every harried parent trying to get a toddler and infant to behave just long enough for one great snap and the little details are hilarious. Check out the results and get ready to awww for a good half hour:
The dropped shoe, undoubtedly belonging to the cutest baby princess of all time. The toy train, surely one of Prince George's meant to lure him to his parents' side long enough for one. damn. picture. This is just the best ever because it's so totally relatable. Check out Duchess Kate's new "mom" hair (which is still gorgeous, but a little more manageable than her usual mane) and Prince William's distracted gaze. You know they struggled hard for this photo, as parents of kids these ages usually do.
The fact that they didn't go to great lengths to craft a perfect image makes them all the more lovable. They probably could've had handlers quickly spirit away that stray shoe and toy train but they let them stay. Maybe they had no choice as it looks like Prince George is ready to split or maybe, they wanted to show what their actual lives are like with a toddler and baby instead of putting out a false image of their family dynamic. Either way, it's fantastic and only further proves what we already know — that William and Kate are the "realest" royals of all and parents any of us can relate to.
And to top off the "we are just like you" vibe William and Kate so effortlessly exude, the palace has announced that Prince George will begin preschool next month at a rural Montessori near the royal couple's Sandringham home. According to CNN, it's a modest "regular" school costing only $49 a day. Honestly, could this family be more like us?
As Prince George and Princess Charlotte grow up, we look forward to more beautiful photos and fun bits of information that William and Kate see fit to share with the public. They've done such a fabulous job of protecting their children's privacy while also making the world feel included. This Christmas photo is great because it's exactly what we've come to expect from the most normal royal parents ever.